Twenty Thousand Leagues Under the Sea is a classic science fiction novel by French writer Jules Verne (1828–1905), published in 1870 under the title Vingt mille lieues sous les mers. The original edition, published by Hetzel, contains a number of illustrations by Alphonse de Neuville and Edouard Riou. The novel is about the fictional Captain Nemo and his submarine, Nautilus, as seen by one of his passengers, Professor Pierre Aronnax.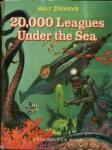 Synopsis:
Sent to investigate mysterious encounters that are disrupting international shipping, Professor Aronnax, his servant Conseil, and disgruntled harpooner Ned Land are captured when their frigate is sunk during an encounter with the "monster." The submarine Nautilus and its eccentric Captain Nemo afford the professor and his companions endless fascination and danger as they're swept along on a yearlong undersea voyage.

Approx. 99,566 words.
Excerpt:
hout apparent damage. Had it struck on a submerged rock, or on an enormous wreck? They could not tell; but, on examination of the ship's bottom when undergoing repairs, it was found that part of her keel was broken.

This fact, so grave in itself, might perhaps have been forgotten like many others if, three weeks after, it had not been re-enacted under similar circumstances. But, thanks to the nationality of the victim of the shock, thanks to the reputation of the company to which the vessel belonged, the circumstance became extensively circulated.

The 13th of April, 1867, the sea being beautiful, the breeze favourable, the Scotia, of the Cunard Company's line, found herself in [email protected] 12′ long. and [email protected] 37′ lat. She was going at the speed of thirteen knots and a half.

At seventeen minutes past four in the afternoon, whilst the passengers were assembled at lunch in the great saloon, a slight shock was felt on the hull of the Scotia, on her quarter, a little aft of the port-paddle.

The Scotia had not
Download for your Kindle: 20,000 Leagues Under the Sea eBook