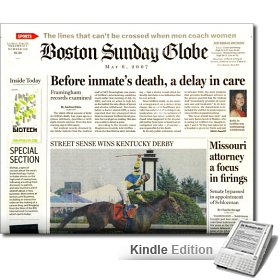 Today on the official Amazon Kindle blog, Amazon announced that The Boston Globe
is available for Kindle. The Boston Globe (and Boston Sunday Globe) is the most widely circulated daily newspaper in Boston, Massachusetts and it is owned by The New York Times Company.
There are also no reviews on the page so maybe you can be the first? Here is the Product Description:
The Boston Globe is the most widely circulated daily newspaper in Boston, Massachusetts and in the greater New England region. Host to numerous Pulitzer Prizes, The Boston Globe features local, national, and world news, and features columns in news, arts and entertainment, business, sports, travel, life, and real estate. Notable contributors include Ty Burr, Ellen Goodman, Jeff Jacoby, John F. Kerry, Bob Ryan, and Dan Wasserman.

The Kindle Edition of The Boston Globe contains articles found in the print edition, but will not include some images and tables. Also, some features such as the crossword puzzle, box scores and classifieds are not currently available. For your convenience, issues are automatically delivered wirelessly to your Kindle so you can read them each morning.
This brings the number of newspapers available on Kindle to 14
. Whilst adding more newspapers is good, and undoubtedly over time we shall see more newspapers producing Kindle versions of their print editions, its seems to me that there are way too many east-coast newspapers, I would like to see some more west-coast papers make it onto Kindle. I would also like to see more foreign papers because they are clearly unrepresented, a dream for me would be the Financial Times which I read religiously. However I suspect we shall have to wait until Kindle's international release before we see a substantial amount of foreign newspapers.
So head on over to Amazon and start your 14-day free trial
, what have you got to lose?
Source: Official Amazon Kindle Blog