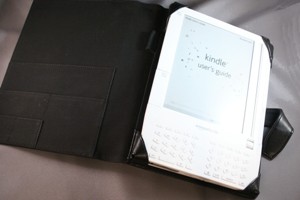 Amazon Kindle does come with a stock cover, but that is all it is a stock cover, Amazon did so much right with the Kindle, but they failed miserably with the stock case – if your bored with your Kindle continuously falling out of the stock cover you might consider having a look at the M-Edge Leather Executive Case
.
This shiny, lushly padded case is a class above the base cover provided by Amazon, it firmly secures the Kindle to the case with four leather corners without being too tight, the top right corner is elasticised so allowing access to the switches on the back. For those who prefer leather the case feels and looks superb – the pictures simply don't do any justice, it looks fantastic – it is smooth, smells divine and is available in a range of colours. On the inside left there is space for a pen and SD card holder as well as pockets for notes and business cards, it also folds back quite neatly. The craftsmanship is fantastic there are no loose threads in the stitching anywhere and fronting the elastic corner with the same material that's on the other corners was a nice touch.
Product description from Amazon.com
The Amazon Kindle Executive Jacket is the ultimate for sophisticated on-the-go eReader users. Whether in the office, at a business meeting, or on the treadmill, the Executive Jacket provides refined and stylish protection of your Amazon Kindle in a superior case. The Executive Jacket offers full surface protection in a lushly padded case. The soft grey interior ensures your Kindle will always be cushioned in comfort. This smart case with classic lines even includes a loop for your pen and interior pockets for storage of SD Cards, notes, business cards, and other essentials. Even while closed, you'll find access to all ports, so you never need to remove your reader for charging. The M-edge Accessories Amazon Kindle Executive Jacket is a sleek case that will protect your eReader from scratches and dings. It is the perfect solution for the user with a fashionable, active lifestyle.
The M-Edge certainly does look a lot better than the standard cover for the Kindle which is frankly quite ugly, a lot of users have reported that the Kindle fell out of it quite easily, you wont get that problem with the M-Edge case because the 4 leather corners firmly keep the Kindle in place. The stock case weighs in at 5.8 ounces while the M-Edge comes in at 4.9 ounces, so no big difference in terms of weight.
The only sticking point is the $54.99 price tag, however this is what Amazon should have shipped with the Kindle in the first place, I wish I had ordered mine months ago.

M-Edge Genuine Leather Executive Case for Amazon Kindle at Amazon.com