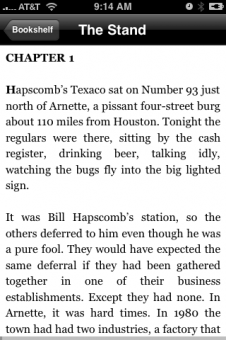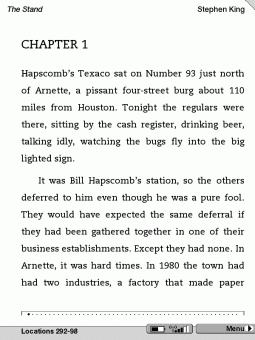 The images above are from a test conducted by Cartwright Reed, with the iPhone on the left and Kindle on the right showing The Stand by Stephen King.
From Cartwright Reed
The smaller, brighter iPhone screen is showing the same number of words as the Kindle. The Kindle is the premiere ebook reader, but I think that the eReader/iPhone combination is compelling. Listening to music while reading off the iPhone screen is a great experience.

The Kindle is still the winner when you're buying ebooks, though. I bought a few titles from Fictionwise and eReader from the iPhone, but it's not nearly as easy as Kindle's Whispernet experience. Of course, you can only go to one bookstore on the Kindle :-).
What is interesting is that the iPhone can squeeze the same amount of words onto the screen as the Kindle, however I suspect you will be squinting quite hard as you try and read the the tiny font on the iPhone. The only solution would be to increase the font size which means less words per screen, which means more page flipping.
Source: Cartwright Reed