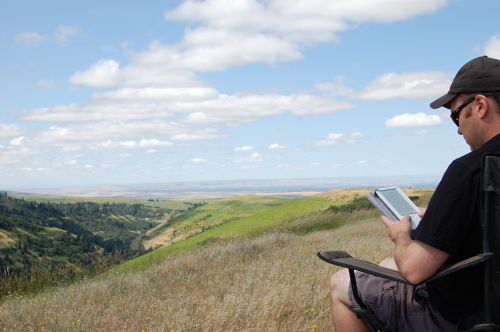 Eric sent in this wonderful picture, what a great place to go to read.
Eric says;
I wanted to show you the stellar location I was able to read my Kindle at this weekend. It's in the Blue Mountains above Walla Walla wine country. Breathtaking and serene. Somehow the Kindle fit in just fine. In fact, my girlfriend was jealous everytime the breeze picked up – her pages would flip and rustle, I just kept reading.

For full disclosure, I am an employee of Amazon.com although I had nothing to do with the development of the device. I am just an avid reader and a fan of free public domain literature on a great reader.

Cheers!

Eric Franklin
http://thepugetnews.com
Cheers Eric!
If you have an image that you would like to submit for Kindle Photo of the Day, then please get in touch! you can send the image via email to

– please make sure you include your name and a link to your site.