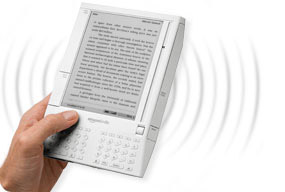 I guess the figures had to come out sooner or later.
240,000 Kindles have been shipped since November 2007, according to TechCrunch, that's what their source claims. We know that Amazon always stays coy about sales as part of its company policy so we may never get any conformation from Amazon about this.
TechCrunch says that their source is close to Amazon with direct knowledge of the numbers, possibly the same source that claimed Kindle v2 is on it's way this fall — we've yet to see any evidence of that prediction.
TechCrunch goes on to say;
Doing a little back of the envelope math, that brings total sales of the device so far to between $86 million and $96 million (the price of the device was reduced to $360 from $400 last May). Then add the amounts spent on digital books, newspapers, and blogs purchased to read on the device, and you get a business that has easily brought in above $100 million so far. (Each $25 worth of digital reading material purchased per Kindle, add $6 million in total revenues).
From these numbers is appears that Kindle is already a profitable operation and has been so from the beginning, however, what we don't know is whether after research and development costs have been factored in if the Kindle project overall is in profitability.
Wall Street has also came out with some new estimates;
Scott Devitt, an analyst at Stifel, Nicolaus & Co., predicts that Amazon is on track to sell 500,000 to 750,000 more Kindles over the next four quarters (including this one). He estimates that Kindle owners will buy an additional $120 to $150 worth of books and other content for each device, bringing the total revenues over that time period to somewhere between $225 million and $355 million. Based on that, he values the Kindle as a $1 billion business for Amazon.
So by this time next year there could possible be over a million Kindle's sold by Amazon. In May, Citi analyst Mark Mahaney was estimating that total sales of Kindle's this year would only reach 189,000. The image below shows what he thought would happen. Turns out that his numbers were way off, that's analysts for you! Its time for him to significantly revise his estimate.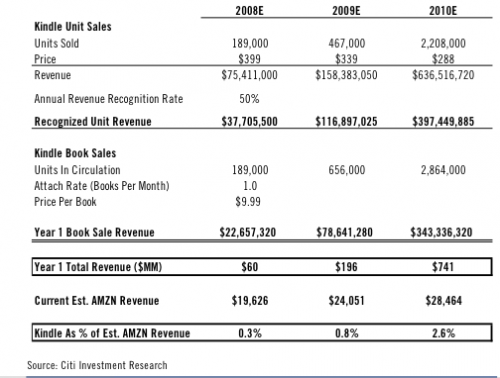 240,000 Kindle's shipped, would you call it a success? It certainly has proved the nay-sayers wrong, it's proved Wall Street wrong as-well.
If the numbers are to be believed, then its a wonderful start for the Kindle, the revenue from hardware sales alone is an estimated $100 million. When you begin to add on book sales, Amazon looks like its earning some major money for its shareholders.
Source: TechCrunch