I normally don't go offtopic and try to keep this blog  to the point but what are rules for if not for beaking them once in a while…
I was going though my paper mail today and this one letter caught my attention. It was addressed to me but no return address… Interesting… First thing out of this envelope was this form: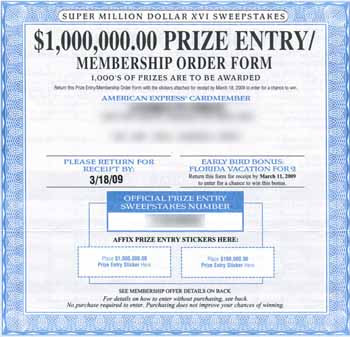 Now who doesn't want to win a million bucks? However before you rush to your mailbox for your chance to cash in and beat the recession take real good look at the third line which says: "membership order form". I know that it doesn't catch your eye because of the way text is placed on the page but it's there. Then you would want to carefully read at least the reverse of the form for details on the price of this membership. You would be glad you did. Other less colorful but more informative papers are also worth reading. What makes this one subtle is that it originates from a credit card company so you don't need to provide your billing information in order to get billed – they already have it!
If you are lazy however here is the scoop: If you are really into winning the $1,000,000.00 and don't want to buy the membership – turn this form over check the "NO, thank you" checkbox on the reverse, stick the stickers as instructed and attach a stamp (current stamp price is Stamp price¢) at your expense. Odds of winning million are 1/130,000,000 so your expected return is 0.77 cents though. But that's the idea of sweepstakes…
Why did I take the time to write this rather than making a meaningful post about what you, readers care – the Kindle? It's because I'm big on the environment issue (and hence – kindle – ebooks – trees get to live) and just think about all the trees that went into paper for these sweepstakes, and all the carbon that USPS trucks are going to put into the air while hauling this mail. And there is no reason at all why all of this couldn't have been done electronically for a fraction of a fraction of carbon footprint…
Oh, and the kindle post – it's coming too – stay tuned.