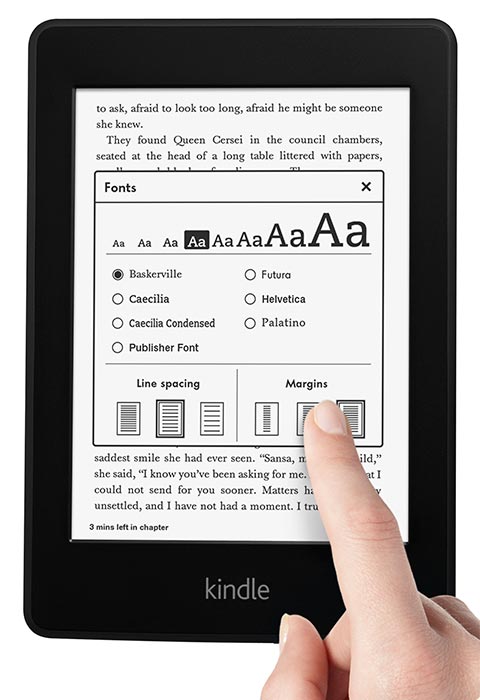 The Kindle Paperwhite is reclaiming the top of the e-ink reader market with positive early reviews.
The Kindle Paperwhite is Amazon's newest generation Kindle that includes front-lit lighting designed to enable readers to read at night, or in darker settings without eyestrain.
Notable improvements over predecessors
The e-ink quality is better, leading to sharper text and images.
The screen is designed to create a reading experience closer to that of reading print books.  This was the original goal when Amazon first developed the Kindle.  The touch screen isn't as  sensitive.  The Kindle Touch would skip chapters or pages sometimes if I so much as breathed on it.
The device itself is smaller, more streamlined, and includes a grip back cover similar to the Kindle Fire.
Then, last but not least, there is the built in light, designed to spread evenly across the screen and give off a cool ambiance that does not hurt the eyes.
The Audio Controversy
Not including audio is mostly an author or publisher issue.  It knocks out consumers who rely on audio to read.  For example, readers who are blind, or others who just prefer audiobooks over text-based books.
While it isn't an issue with the majority of readers, including audio is a good feature to work on for future software updates or Kindle generations if Amazon really wants to reach out to the broadest audience possible.
Here's what reviewers are saying about the Kindle Paperwhite
"I've been very impressed with my new Kindle. The screen and light are absolutely gorgeous and the page turns are much faster than my old Kindle Touch. Although I know that it isn't heavier than the last version it someone feels more substantial and solid than the older version. I am a little disappointed1111111111111 that they took away audio capabilities, but I rarely used that anyway. Overall a fantastic upgrade that I know will keep me reading!"
"Its amazing. It actually looks like a real white paper with black ink text. I have used Sony eBook reader, nook touch and older kindles in the past, but the dull gray screen was something which always made eBooks inferior to a real paper book. No more. In my opinion, this is a quantum leap!"