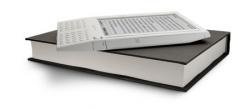 As a Kindle owner with over 100 e-books–many of them only half read I must admit–on my Kindle, I have found that I've been buying a lot on impulse. If the product description excites me, then I will buy it considering the price is under $5. If its between $5 and $9.99 then I will pause for a moment to consider if I will actually read it all the way through. However once the price of an e-book passes the $9.99 mark, then I automatically don't want to buy the book, even if I really want it. My mind is telling me that if your practically going to pay full price, you might as-well get a dead-tree book.
The thing is, it's so easy to buy books on the Kindle, it almost feels like your not spending money, but once the price passes $9.99 it does feel like your spending money. Just like Apple got it right with 99-cents per song on iTunes, this is where Amazon got it right as-well, $9.99 is the perfect price for new releases.
If all those book I didn't purchase because they were priced above $9.99 not been, then I would have probably have had about 125-130 titles on my Kindle by now. I'm willing to bet many other Kindle owners are walking away from purchases because of pricing, perhaps its a psychological barrier which I have become used to which means I cant buy books above $9.99. One of the reasons behind my purchasing a Kindle was the reduced price for many books, now when e-book are being priced at $2 or $3 cheaper than their printed counterparts then it hardly seem worth investing $400 for the Kindle.
I realise that Amazon probably doesn't set for most of the e-book on Kindle, so publishers need to get the message that the $9.99 price tag means more sales and that pricing e-books higher than that is stifling their growth.
Do/Would/Should you pay more than $9.99 for a Kindle e-book?