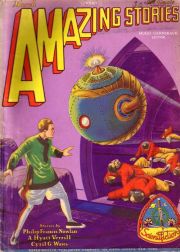 SECOND ADVENTURE OF THE ORIGINAL "BUCK ROGERS"! "For scientific interest as well as suspense little science fiction could hold its own with this particular story. It is one of those rare stories that will bear reading and re-reading many times," Amazing Stories. Recovering from a gas that caused him to sleep for five hundred years, Anthony "Buck" Rogers helped an enslaved America strike its first blow for freedom against the alien Han. Now, he and beloved, warrior-woman Wilma Deering, must lead a desperate a battle to the finish against a superior foe — using futuristic weapons such as disintegrators, jumping belts, inertron, paralysis rays, and atomic torpedoes. The climatic conflict features a special effects battle of ships and rays that would challenge even today's greatest filmmakers to reproduce successfully on film. "A delight to readers, The Airlords of Han [is] told with directness, precise imagery, and discipline of controlled imagination. It is no accident that Buck Rogers became an almost instantaneous success," – Sam Moskowitz.
Excerpt:
CHAPTER VIII

Hypnotic Torture

Some twenty minutes later the ship arrived. It settled down slowly into the ravine on its repeller rays until it was but a few feet above the tree tops. There it was stopped, and floated steadily, while a little cage was let down on a wire. Into this I was hustled and locked, whereupon the cage rose swiftly again to a hole in the bottom of the hull, into which it fitted snugly, and I stepped into the interior of a
craft not unlike the one with which I had had my fateful encounter, the cage being unlocked.

The cabin in which I was confined was not an outside compartment, but was equipped with a number of viewplates.

The ship rose to a great height, and headed westward at such speed that the hum of the air past its smooth plates rose to a shrill, almost inaudible moan. After a lapse of some hours we came in sight of an impressive mountain range, which I correctly guessed to be the Rockies. Swerving slightly, we headed down toward one of the topmost pinnacles of the range, and there unfolded in one of the viewplates in my cabin a glorious view of Lo-Tan, the Magnificent, a fairy city of glistening
glass spires and iridescent colors, piled up on sheer walls of brilliant blue, on the very tip of this peak.

Nor was there any sheen of shimmering disintegrator rays surrounding it, to interfere with the sparkling sight. So far-flung were the defenses of Lo-Tan, I found, that it was considered impossible for an American rocket gunner to get within effective range, and so numerous were the _dis_ ray batteries on the mountain peaks and in the ravines, in this encircling line of defenses, drawn on a radius of no less than 100 miles, that even the largest craft, in the opinion of the Hans, could easily be brought to earth through air-pocketing tactics. And this, I was the more ready to believe after my own recent experience.

I spent two months as a prisoner in Lo-Tan. I can honestly say that during that entire time every attention was paid to my physical comfort. Luxuries were showered upon me. But I was almost continuously subjected to some form of mental torture or moral assault. Most elaborately staged
attempts at seduction were made upon me with drugs, with women. Hypnotism was resorted to. Viewplates were faked to picture to me the complete rout of American forces all over the continent. With incredible patience, and laboring under great handicaps, in view of the vigor of the American offensive, the Han intelligence department dug up the fact that somewhere in the forces surrounding Nu-Yok, I had left behind me Wilma, my bride of less than a year. In some manner, I will never tell
how, they discovered some likeness of her, and faked an electronoscopic picture of her in the hands of torturers in Nu-Yok, in which she was shown holding out her arms piteously toward me, as though begging me to save her by surrender.

Surrender of what? Strangely enough, they never indicated that to me directly, and to this day I do not know precisely what they expected or hoped to get out of me. I surmise that it was information regarding the American sciences.

There was, however, something about the picture of Wilma in the hands of the torturers that did not seem real to me, and my mind still resisted. I remember gazing with staring eyes at that picture, the sweat pouring down my face, searching eagerly for some visible evidence of fraud and being unable to find it. It was the identical likeness of Wilma. Perhaps had my love for her been less great, I would have succumbed. But all the while I knew subconsciously that this was not Wilma. Product of the
utmost of nobility in this modern virile, rugged American race, she would have died under even worse torture than these vicious Han scientists knew how to inflict, before she would have pleaded with me
this way to betray my race and her honor.

But these were things that not even the most skilled of the Han hypnotists and psychoanalysts could drag from me. Their intelligence division also failed to pick up the fact that I was myself the product
of the Twentieth Century and not the Twenty-fifth. Had they done so, it might have made a difference. I have no doubt that some of their most subtle mental assaults missed fire because of my own Twentieth Century "denseness." Their hypnotists inflicted many horrifying nightmares on
me, and made me do and say many things that I would not have done in my right senses. But even in the Twentieth Century we had learned that hypnotism cannot make a person violate his fundamental concepts of morality against his will, and steadfastly I steeled my will againstthem.
Download "The Airlords of Han" by Philip Francis Nolan for your Kindle:
"The Airlords of Han" by Philip Francis Nolan [.mobi file]