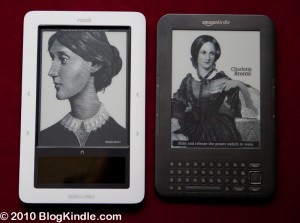 The moment we have all been waiting for has finally arrived.  Amazon (NASDAQ: AMZN) has finally announced plans to allow Kindle book sharing among Kindle users.  Like the Nook, the Kindle book can only be shared one time, and will have a 14 day lending period.  The book will not be available on your Kindle while it is on loan to another person.  This feature should be available by the end of this year.
I will admit, as much as I love my Kindle, the fact that I couldn't share books with people was a real disappointment for me.  Part of what makes reading so enjoyable is the ability to share and discuss books with people close to you.  I bought The Help, a bestseller by Kathryn Stockett, and knowing that several others wanted to read it, I had to buy the hardback version.
This new development is a step in the right direction, but it doesn't quite allow the lending freedom we've all hoped for. Lending rights will be up to the publishers, or whoever holds the rights to the particular book.  Considering the war over e-book prices, it will be interesting to see how strict publishers are about allowing lending capabilities.
Speaking of lending books, I would like to see more headway in allowing Kindle e-books to be checked out in libraries.  Contrary to popular belief, libraries are at the forefront of emerging technology and digitization trends.  Many libraries are purchasing Kindles to loan to their patrons to use, and that system has shown signs of success.  As of now, since the Kindle has its own copyrighted e-book format, it cannot be used.  Other e-readers have open book formats that allow their e-books to work in libraries.
If Kindle books were available to check out in libraries, I think that would boost sales of the device itself.  It would also reach out to an even wider variety of readers who may not have had the opportunity to learn or explore the idea of using an e-reader.