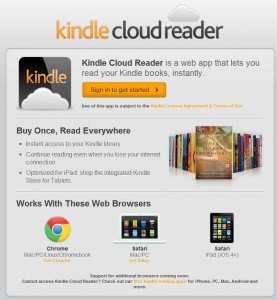 While Amazon's Kindle Cloud Reader app might have been a response to Apple's restrictive app store purchasing rules, it manages to be one of the best examples of the potential inherent in HTML5 applications.  Users are able to enjoy all of the benefits of a local Kindle reading app without going through those pesky app stores and their associated complications.
Normally those complications are minimal, of course, but after Apple almost put an end to the Kindle app for iOS users it's probably a good thing to break away.  The one major complaint for users is that up until now only Apple's Safari and Google's Chrome browsers were supported.  Now even more customers will get to join in.
Users of Mozilla Firefox can now access the Reader so long as they are running version 6 or later.  This significantly expands the user base for the app by bringing in the most popular web browser worldwide.  By most estimates Firefox is more popular than Chrome and Safari put together by a fair margin yet, even with Google making their presence increasingly known.
As has been the case previously, users of the Kindle Cloud Reader app will enjoy pretty much every basic feature they are used to from the Kindle platform both online and off.  This includes the ability to read in a variety of font sizes and styles, a couple different color schemes, and the ability to bookmark.  You can choose which of your Kindle books to keep locally for times when web access is questionable or simply not desired.
The only real downside, assuming that you aren't a big fan of Internet Explorer who is therefore still left out of the fun, is the inability to annotate and highlight.  Supposedly this feature is expected to be implemented in the future, but as yet nothing is there.  You are, of course, able to read and access any and all annotations and such that you might have entered via another device or app.As always, I can't say there's any substitute for an actual Kindle eReader, if for no other reason than the major advantage they have in the E INK displays, but this brings a significant level of functionality to virtually any personal device.
The Kindle Cloud Reader, along with Amazon's other cloud services, will be especially important in the near future as the Kindle Fire finally begins to ship.  The company's dedication to cloud computing and digital media delivery is a large part of the motivation behind the release of the tablet in the first place.  While Firefox is obviously not a factor with the device itself, this move indicates an obvious continuing interest in updating and expanding the feature set of the app. Learn how to open BAK file.
Users interested in checking out the Kindle Cloud Reader can access the device in any major non-IE browser at http://read.amazon.com or http://www.amazon.com/cloudreader or through the direct link in the Kindle Store.