As of November 19th, the Kindle is five years old.  Since its first incarnation we have watched it go from a fairly clunky attempt at introducing something new into the market to an elegant piece of technology that continues to deserve its position at the top of the same market it helped popularize.  We've been watching this progression since the beginning (our first post here was less than a month after launch on December 15th 2007) and it's been a great time.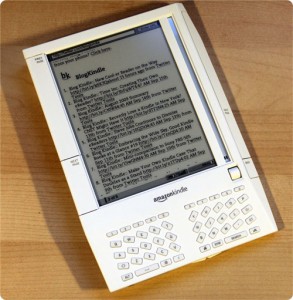 Looking back at the first generation Kindle is a great way to help understand why it hasn't been just the hardware keeping the line going.  Amazon made a fairly good eReader, but even at the time there were superior options.  The first Sony Readers to be released in the US were lighter, faster, and generally more pleasant to use.  Still, Amazon pulled off a "good enough" device and supported it with the best digital reading content anywhere.
The Gen 1 Kindle had a resolution of 800 x 600, less than a quarter gigabyte of storage space, was uncomfortable to hold for long periods of time (compared to newer models, though it was great at the time), and would run you around $400 without a case or any books included.  About the only thing it had going for it compared to future products was the SD card slot, which was eliminated in the second generation.
That's not to say it was a bad device so much as to illustrate how far things have come.  When new, the first Kindle captured the attention of huge numbers of people despite the price and was often held up as a valid alternative to the iPad.  That comparison is nonsense, but it illustrates how interesting people found the idea.
For comparison, you can now get the Kindle Paperwhite (assuming you can find one since they are in short supply at the moment) for $119.  It has a 6", 212PPI display running with a 758 x 1024 resolution.  Battery life will last you over a month at a time in many cases.  The internal storage us up to two gigabytes and you can download your books on your home WiFi.  There is lighting for the screen without any of the problems that E Ink was solving compared to lighted screens in the first place.  Five years has meant a lot of progress.
Most importantly, the Kindle Store and Amazon's support for its associated features have expanded even more.  The whole publishing industry has been forced to take digital distribution seriously and nobody does it better.  Kindles now enjoy a presence in millions of homes around the country and we expect to see even more of them in organizational settings like libraries now that central management tools have been released. Learn how to open VCF file.
What is still to come for the Kindle is open to debate.  Some people expect a move away from eReaders to concentrate on the Kindle Fire tablet line.  Personally, I doubt it.  The Kindle eReader is what put Amazon on the map in terms of computing devices and it will continue to be a major point of interest in the future.  The only real question is how much further they can take it and in what direction.