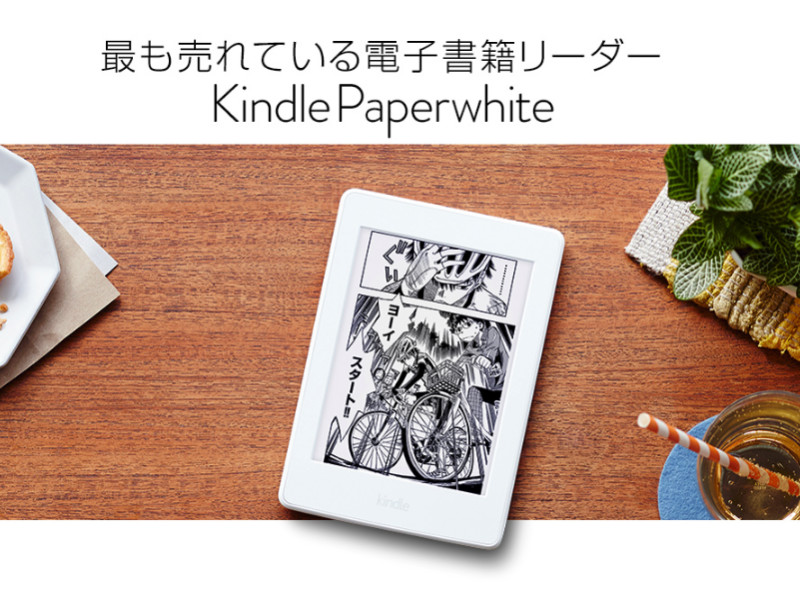 Amazon Kindle Paperwhite can handle quite a lot of books without breaking a sweat. But if your books are all about images even it can ran out of storage capacity rather quickly. To address this Amazon Japan issued a special version of Kindle which storage is 8 times more than typical Kindle Paperwhite 4GB. It has total 32GB of storage and improved performance to deal with complex images in manga books. Additional performance of this Kindle allows up to 33% faster page turning and display of multiple pages of a book side by side.
Here is a list of additional features that Amazon is offering on its Kindle Paperwhite 32GB model.
8 times of storage capacity. Allows readers to save hundreds of comics book and thousands of books on Kindle device.
Rapid page turn. Advanced processing capability of new Kindle allows up to 33% page turning speed. Also you can quickly skip pages at a speed of up to 7 pages per second.
Comics could be read on any device you own. Any books or comics you download will be available on all of your devices including smartphones and PC.
High resolution display. 300ppi display delivers crips and clear images of cartoon images and letters.
Two-page display format. To enhance viewing experience you can view books in two-page display.
Built-in light in display allows reading in low light conditions without eye strain.
Batter which lasts several weeks. You can enjoy up to 6 weeks of reading (with brightness set on 10 and using it for 30 minutes per day with wireless connection off).
Amazon Japan opened pre-orders this week for ¥16,280 (about USD 157). Learn how to open JSON file.
It is not clear if this Kindle model will be offered in other parts of the world but it is pretty clear that it could be a very popular offering. Probably Amazon is just testing the market demand for it in Japan.