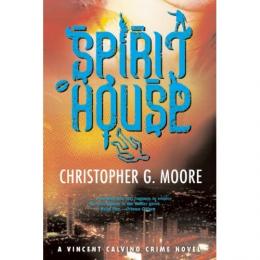 Amazon and publisher Grove/Atlantic from today will be giving away a free copy of the new novel "Spirit House" by Christopher G Moore to Amazon Kindle customers, beginning today Kindle owners can go to the Kindle page for "Spirit House" and download a free copy of the e-book via Whispernet.
The electronic version will be available from today (August 1), in advance of the book's release in print on 28th August, which will cost $10.40.
Morgan Entrekin, the president and publisher of Grove/Atlantic, said that the deal with Amazon "is a great way to expand Moore's audience even further."
So head on over and get your free copy, here is the book description;
In the nearly twenty years he has lived in Bangkok, Christopher G. Moore has written nine novels starring Vincent Calvino, a disbarred American lawyer working as a PI in the dark and steamy Thai capital. Internationally acclaimed, the prizewinning novels have been translated into ten languages. Now Spirit House, the first novel in the series, is finally available in North America.

A farang is dead and the Bangkok police have a confession the next morning from a young paint-thinner addict. He claims he killed Ben Hoadly, an expat Brit, but Calvino has his doubts when he sees heavy bruises on the kid's face. In no time Calvino is working both sides, out to find the killer for Hoadly's wealthy father, and eager to clear the addict's name for a beautiful friend who runs a charity in the slums. With the help of his best friend, Pratt, a Shakespeare quoting Thai police colonel, and his loyal assistant, Ratana, Calvino plunges into the dangerous world of addicts, dealers, fortune tellers, inexpensive hit men, oversexed foreigners, and professional bar girls. Spirit House is a thrilling introduction to Vincent Calvino and Christopher G. Moore's Bangkok.
UPDATE: Link to the Kindle edition of "Spirit House"

Source: New York Times