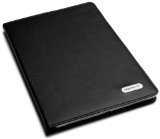 The Kindle is an expensive gadget, so many owners take precautions to protect it.  One popular Kindle accessory is Amazon's own leather cover, which adds a layer of insulation to prevent everyday mishaps.  The only problem is that the hinges on the cover have apparently cracked the cases on a number of Kindle 2's and Kindle DX's, with the damage sometimes even resulting in a frozen display.
After a $5 million lawsuit filed against the company, Amazon agreed to replace Kindles that have been damaged by the cover.  This is a reversal of Amazon's previous practice of charging $200 for the replacement.  Even though Amazon's now trying to address the issue, the lawsuit has yet to be withdrawn.  The company, however, refuses to comment on the suit itself since it's against their policy to discuss ongoing litigation.
So far I don't see any traces of damage on either of my Kindles but this piece of news has got me strongly considering investing in another kind of Kindle cover. On the other hand should 3rd party cover crack my Kindle, Amazon would be reluctant to exchange it for free. I'm curious, has anyone run into these problems with the Amazon case?