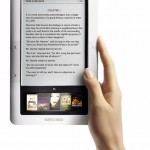 In recent days, as Apple steps into the market and eReaders are practically falling out of the rafters, one of the major points of comparison that has kept the Kindle on top has been the subscription-free 3G connection complete with web browser.  Nobody has ever claimed that it looked wonderful, but it does the job and who doesn't occasionally love the option to check Wikipedia on the fly?
Well, it seems that Barnes and Noble has finally caught up with the crowd.  According to recently released rumors, we could be seeing a full web browser added into the feature list as early as next week in a downloaded firmware update.  Now, it would be reasonable to expect perfection right out the door, but any nook owner will tell you that this has been a long time coming.
Even assuming that the main purpose will be for text-based web pages such as Wikipedia or the many online dictionaries, there will be several unexpected side effects that could benefit owners.  Travelers in areas without 3G coverage who wish to use their devices in the airport, hotel, or coffee shop have often found themselves out of luck up until now, since many such places require navigating an internal web page to gain access to the connection itself.  If this rumor proves true, nook fans have some fun things to look forward to as the eReader feature gap closes up a little bit more.