Paragon Software Group, possibly best known for their work in mobile dictionary and reference software, has brought a new set of translation dictionaries to the Kindle Store in an effort to improve the multi-lingual reading experience.  The Slovoed dictionaries, now available, allow users to enjoy a number of interesting features that should come in handy.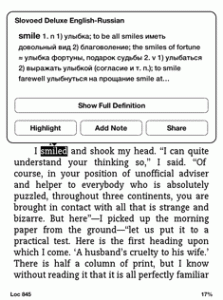 The most appealing application is simply a new default dictionary for your Kindle.  By replacing your current dictionary with the Slovoed dictionary for your particular language of choice, you can enjoy pop-up translation of almost any word thanks to the Kindle's built-in dictionary look-up capabilities.  This comes in especially handy with the Kindle Touch, since just tapping a word on the screen is all that is required.
It is also possible to do some manual translation.  As with any dictionary, you can open the Slovoed translation volumes directly through the Kindle.  From here it is just a matter of searching for the word you need.  It is well designed for this sort of searching, including the ability to handle most obvious misspellings by giving users a choice of several possibilities from a list after the search field is filled.
You get three choices when acquiring Slovoed dictionaries:
The Compact series contains the basics.  This series takes up the least amount of space on your device's storage while still offering concise translations for thousands of commonly used words.  It is primarily aimed at people who are just getting started on learning a new language.
The Classic series is more advances.  It is a comprehensive collection of just about everything you could need.  The target audience is travelers, students, and business professionals, so the breath of coverage is as wide as you might expect.  For many people, this is all you will ever need.
The Deluxe series is intended for advanced students, professional linguists, and translators.  It contains everything that the other series offer, but also has far more detailed information.  Everything from examples of proper use to detailed explanations of unusual cases is covered.  You can't get much more from a product like this.
Coverage is available in dozens of languages and should be able to fit the majority of needs.  The whole selection appears to be available now.
The only customer complaint that seems to come up regularly is the lack of a reciprocal translation option.  In other words, you can go from Catalan to Spanish with a single dictionary, but to go from Spanish to Catalan you will need to get a separate volume.  This can be a problem for some people, especially students, as comprehension sometimes requires the ability to look things up from either direction.
Overall, this is a solid set of products and a plus for any bilingual Kindle reader who has a need for it.  The price is right and installation is as simple as selecting the new dictionary as your default in the Kindle's settings menu.  It's hard to argue with simplicity.