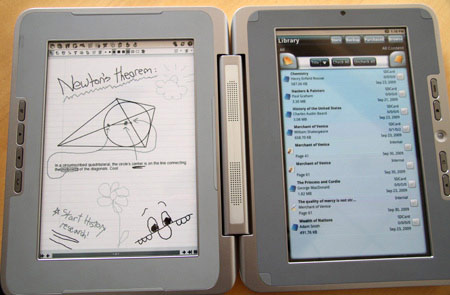 When the news about a new kind of ebook reader from Entourage hit the market, everyone was skeptical. With Amazon's Kindle and its major competitors like Sony readers already filling the shelves, no one really thought much of this dual screen device that looked more like concept than actual product.
But now it looks like Entourage is pretty serious about making this one work. First there was the fact that the touchscreen side would actually be running a version of Android underneath. Then it was known that the two screens of the device will actually be connected together to provide contextual support. While that might seem like the obvious thing to do, it involves quite a bit of development challenge.
Now that it is on pre-order and waiting to be released, we are getting fresh new details from the folks themselves, courtesy netbooknewds.com.
It was revealed earlier that the eDGe is using a Marvell chipset under the hoods. Now it has become clear that it is using an Armada PX168 processor in order to get things done. The company is also talking about HD videos and 3D graphics. If all of this is pulled off in a respectable way, we can rest assured that this product will be quite a big hit. Just the thought of a fully featured browser with an eBook reader and dual screen to keep the battery life up sounds really exciting.
From the video of the first generation model, it is exciting to see the touchscreen response. Those who have been two-timing between an eBook reader and a netbook, this could a solution in the making.
But without an integrated marketplace like the Whispernet, it will be hard for the company to stay profitable and attractive beyond the initial spurt of interest. As with most of the things that are emerging, only time will tell how things pan out for it.