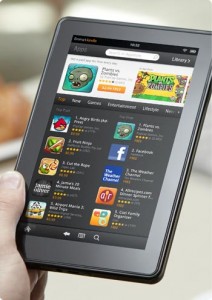 Move over cable television, the Kindle Fire is getting even more wildly popular apps: Hulu Plus and ESPN.
Hulu.com pulls together all of the latest TV show clips and available full episodes into one website.  Hulu Plus is their subscription based service that allows access to even more shows and movies.  It is better than Netflix in some respects because it provides access to TV shows soon after they air as opposed to months later.
ESPN shows live sporting events right on you Kindle Fire.  I'm a big college basketball fan, so I am especially excited about the prospect of taking the games with me wherever I go.  The only drawback is that you have to sign in using your cable provider account.  So, not everyone can use it.
Hulu Plus and ESPN join Facebook, Netflix, Twitter, Pandora, and a slew of popular games to make up a pretty powerful set of apps.  A lot of these are free, but the ones that are pretty inexpensive.
Rumors and speculations are flying about how the Kindle Fire is set to knock the iPad off the top of the tablet market list.  I don't doubt that Amazon (NASDAQ: AMZN) has the tools and ability to do it.  They also have a great reputation for top notch customer service, and for having much more cost friendly products than the majority of major retailers.
Right now, the major advantage to the Kindle Fire is price.  The iPad has the history and larger app store.  However with the addition of all of the major apps like Hulu, ESPN, etc, will set the Kindle Fire up to be some pretty hot competition.  I will be very interested to see what Apple does in response.  In the past they have typically come back with a better product touting improved features without budging too much on the price.
I'd love to see a future 10* Kindle Fire that includes a robust app store, external keyboard compatibility, and a reasonable price.  This future version might just become reality quite soon.
I'm eager to hear what new Kindle Fire owners have to say about the tablet once they get to finally try it out.  Will the user interface be intuitive and easy to use?  Will colors be vibrant and sharp as the description boasts?  All are questions that will be answered on the fast approaching November 15 release date.  Let the games begin.