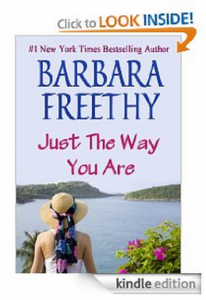 I've read a few of Barbara Freethy's romance novels, and have really enjoyed them because they have storylines that tend to have more depth than your basic, trashy romance novel.
Just the Way You Are is about two sisters: Tessa and Alli.  Alli seduces Tessa's boyfriend, Sam Tucker and that leads to a surprise pregnancy and a troubled marriage.
In sibling relationships, there is often one sibling that is super successful.  That sibling may have the good looks, an amazing job, and the husband or significant other that everyone else would die to have.  Alli lives in the shadow of Tessa, who is a supermodel.  So, this book examines the dynamic of sibling relationships.
The unifying symbol in Just the Way You Are is a pearl necklace that Alli and Tessa's grandmother, Phoebe started with her husband.  After Phoebe has a stroke, Alli and Tessa come together to find the last pearl in the necklace.  The pearl necklace represents the love their grandparents have, and it helps heal the wounds from the past.
Just the Way You Are will probably not be on the list of free Kindle books very long.  Right now it is #1 on the Top 100 list.  So, if I were you, I'd grab it soon before it goes off the free list.
If you're into sweet romance novels and beach reads, other authors similar to Freethy are Debbie Macomber, Susan Wiggs, and Barbara Delinsky.  There are more that you'll find listed as suggestions when you look up these authors.  Most of their Kindle books are pretty cheap.  They're not always just about romance.  They explore other types of relationships as well.
After going over the reviews, I saw that several reviewers mentioned how real the characters seemed.  I love it when authors create stories that let you escape into the characters' lives and forget that they aren't real people.
"The best romance novels are the ones that do not follow formula (at least in every aspect). Barbara Freethy has always been good at making her characters a little more realistic and a little less cookie-cutter. It is a great relief to find someone who does. This story is very well done. None of the characters is a saint, all have insecurities and doubts, and each is very flawed."
"I always enjoy Barbara Freethy's style of writing before. She always manages to create characters that real, who are not flawless, and fill with insecurities — which make them real human. And the new novel "Just The Way You Are" impresses me just like others."