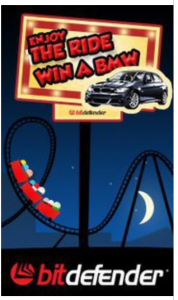 BitDefender, an antivirus and internet security software company, is currently hosting a giveaway series that includes a chance to win 2 free Amazon Kindles.  Other prizes include tablets, laptops, smartphones and many other gadgets.  The grand prize is a BMW 3 Series.  Entering into one contest puts your name in for the grand prize.
Here's how to enter the contest:
Access the Facebook Application: BitDefender fun4fans.and the contest asks that you connect a set of paragraphs to complete a story.  The application does a good job of explaining how to complete the contests.  From February 18-May 29, there will be weekly draws to win gadgets including the Kindle.  Each week has a different theme.
And yes, I know Facebook applications can be annoying, but this one might just get you a fun gadget to play with.