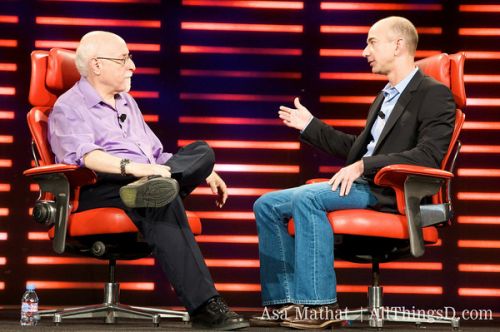 Our old friend Walt Mossberg sat down with Amazon CEO Jeff Bezos this morning at the "D: All Things Digital Conference".
Walt Mossberg gave the Kindle a luke-warm reception back in November calling it "mediocre" and "marred by annoying flaws". He liked the idea and the shopping experience behind the Kindle, but thought that the device itself was where Kindle's flaw lied.
Jeff Bezos does his normal sales pitch about the Kindle, but this time he throws in a bit of new information about Kindle sales. Walt asks point blank "How many Kindles have you sold?" Jeff politely refused to answer the question instead he gave us a new stat: "Title-by-title basis…Kindle unit sales more than 6% of total book sales". So of the 125,000 titles available for Kindle, of all those 125,000 titles that were sold — digital and print — Kindle accounted for 6% of sales. Jeff also said he envisioned a time when e-book sales formed a substantial portion of book sales at Amazon.
Jeff Bezos also commented on a Kindle v2:
"There will be a second version, a third version, a tenth version. … but a second version is not that near."
It may take a decade to get the product to where Amazon wants it, he said. So this has confirmed what many thought, that Amazon is committed to the Kindle and there will be a Kindle v2 release sometime in the future.
The interview wasn't just limited to talk about the Kindle, Bezos also talks about the streaming video-on-demand service for Amazon, which will be released in the next couple of weeks amongst other things.
You can see the interview below in 2 parts.
Source: All Things D