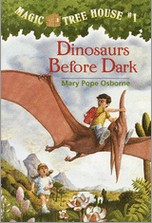 As of today, 6/16/2010, Random House's Magic Tree House series, a childrens' staple since 1992 by Mary Pope Osborne has been released for the Kindle.  All 43 books in the amazingly popular series are now up for sale in the Kindle Store as I write this, with the 44th already available for preorder, anticipating its September 14th release.
The Magic Tree House series has sold over 70 million copies worldwide, been translated into 28 languages, and distributed in 31 countries over the course of its life cycle so far.  It is a widely acknowledged tool in promoting childrens' literacy and can be(and often is) coupled with Random House-distributed educational material related to the stories for use in classrooms as a teaching aid in any number of subjects.
Much publicity has focused on what the Kindle can do on college and high school campuses, but this brings useful attention to the fact that an eReader with a properly durable case, perhaps even a library's worth of them, could easily enhance the learning experiences of children at any age.  The Text-to-Speech feature is helpful for any struggling reader and the ability to vary the font size can make a text more approachable for easily overwhelmed young readers still unsure of their ability.  Clearly a step in the right direction.