Preorders are now available for both the 3G + WiFi Kindle 3 and the much anticipated WiFi-only Kindle 3.  The improvements on both models(the only difference between the two being the exclusion of 3G coverage from the WiFi model and the lower price that that entails) are quite noticeable, if a bit less drastic than many people were likely expecting.
Here's what we're going to be looking at:
Higher Contrast Display, such as has recently been seen in the Kindle DX Graphite
Slightly Streamlined Body: 21% smaller, 17% lighter, but with no sacrifices to screen size
Improved Battery and Main Memory Storage, which with the release of Collections a few months ago finally proves incredibly useful
Built-in WiFi Connectivity: This is huge.  Connect and download books even in areas where reception is horrible?  You'd better believe I'll take it
20% Faster Refresh Rate
Enhanced PDF Navigation, again much like what we've seen in the DX
New Kindle Software will support some international characters – Cyrillic (Russian), Chinese, Japanese and Korean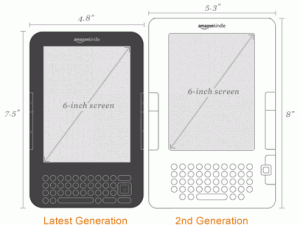 Now, I'll freely admit that the only thing I was set to care much about was the improved screen.  And, to address that point, it looks like it will be as amazing as could be hoped for. That said, I love the body redesign.  It's smaller, lighter, easier on the eyes, claims to have quieter page turn buttons, a more pleasantly textured backing, and has done away with the annoyingly protruding navigation stick in favor of a directional navigation pad.  If there were ever a reason not to Kindle, it's flown right out the window.
So far all pre-orders are due to be shipped on a release date of August 27th.