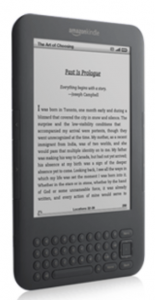 Yay! Amazon (NASDAQ:AMZN) listened to its customers, and has now added the Kindle 3G with Special offers to the Kindle family.  I've seen a lot of comments about this on the Kindle reviews on Amazon's site, and the Amazon Kindle Facebook page.
Amazon is offering the 3G Kindle with special offers for $25 less at $164.  It includes all of the perks of the Kindle 3G with the addition of sponsored screensavers and ads.  When I was looking at the overview of the new Kindle, I noticed how much the battery life has improved.  Three weeks with wireless on, and 2 months with it off.  That is awesome.
A couple of great special offers include: $10 for $20 Gift Card, and $100 with new Amazon Visa Card sign up.  I wish I had that offer when I signed up for my Amazon Visa Card!  These offers end June 4th and May 30th respectively.
After Amazon's announcement, there were complaints about how people have just bought the Kindle 3G.  If you have bought a Kindle within the last 30 days, you may still send it back and get the newer special offers version.
Now, is the Kindle DX next in line?  On another note, it will be interesting to see how the tablets Amazon is supposedly working on will affect the Kindle DX.