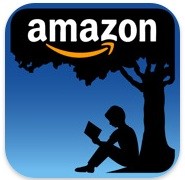 Though Amazon Kindle and Apple iPad are touted to be arch rivals in the e-Reader segment, it hasn't stopped Amazon from building a Kindle app for iPad. Amazon previewed the Kindle iPad app a couple of weeks ago and yesterday, the app made its way to the Apple iTunes Store. The Kindle app for iPhone has been around for a while now and is very popular amongst iPhone users. The iPad Kindle app is a logical extension of the iPhone Kindle app and its release was on the cards after Apple announced the launch of iPad on April 3. However, there's one major limitation of using Kindle on iPad – Books bought through Kindle app must be read within the app itself. These books will not be viewable in Apple's iBooks app.
The Kindle app for iPad lets people enjoy the best of both worlds – easy to use Kindle app interface and supreme performance of the iPad. Further, it gives the users a choice to read books from either Amazon or Apple. Customers always want more choices and e-Readers are no exception to this rule. I've come across many voracious readers who are addicted to kindle interface and therefore, they are reluctant to try out the iPad. The Kindle app for iPad is welcome news for all such readers.
While a lot of people have been debating the fortune of Amazon Kindle after the launch of Apple iPad, I believe that Amazon will emerge as the major e-Book provider for iPad. Since iBooks is not pre-installed on Apple iPad, many users might prefer to install Kindle app for iPad as compared to iBooks.
I'll publish a review as soon as 3G-capable version of iPad hits the stores that I intend to get for myself.