Kindle Black Friday Deal (buying 2nd generation Kindle 3G eReader for $89) is live Black Friday Lightning Deals page on Amazon Black Friday home page (to have easier time finding the deal, select "Kindle Store" in the category selector – it will be the only deal there). Here is a screen shot of the deal. You can click on it to go to the deal page.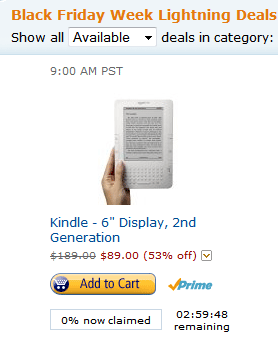 Deals page on Amazon.com website seems to be extremely slow to load this morning. By the looks of it a lot of shoppers convinced by the ads decided to cyber-shop on Amazon this Black Friday rather than camp at 4am on Best Buy parking lot. If Amazon Black Friday Lightning Deals page is being slow for you or fails to load at all, you can check out this copy that I've created that is lightweight. It only contains Black Friday deals that are currently active and not sold out (why would you care about other deals anyway?) so Kindle deal should also be there only while supplies last. I try to have the deals updated every minute but even with  2 redundant servers doing it parallel, Amazon website sometimes doesn't respond at all.
And of course, should you be out of luck on Black Friday Kindle 2 for $89, you can always get the latest generation Kindle 3 with WiFi for $139.
I will keep updating this page as the deal unfolds.