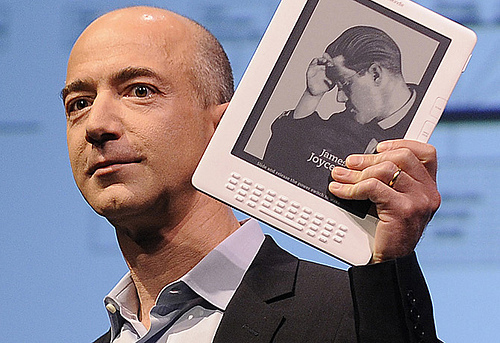 Amazon Chief Executive, Jeff Bezos, has made clear the company's intention to bring the Kindle's eBook store to more devices.  Apparently, Amazon views the Kindle and the bookstore as two separate ventures, and is not afraid to let competitors access the same library that the Kindle does.
Currently, the only non-kindle device with access to the book store is the iPhone, through the Kindle for iPhone app.  I would guess that some of the new devices getting Kindle support would have to be the iPhone's competitors, most likely Palm, Blackberry, or Windows Mobile.
But the most strategic platform to cover would have to be Android.  If Amazon hopes to compete with Google's upcoming bookstore, it would make sense to first push their own books onto Google's mobile OS.
Unfortunately, it doesn't seem like Amazon has any current plans to share their eBook format with everybody.  I'm guessing this will at some point be a necessity, however, as eReaders and competing bookstores become more prominent.  Sure, extra support for mobile devices will help the Amazon bookstore, but it won't affect the buying habits of a Sony eReader user.  Eventually, Amazon will need to open their bookstore to all eReaders unless it wants to lose business to someone like Google.