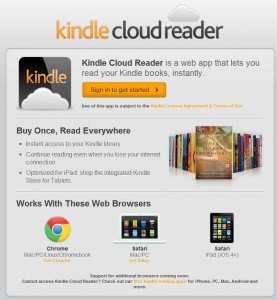 Following the recent move by Apple to cripple any iBooks competition via billing requirements, it really isn't much of a surprise to see Amazon pushing the Kindle Cloud Reader to what seems like it might be an early release.  What is surprising is how functional it is at launch and how familiar it will feel to many people.  Now users can read their Kindle eBooks on any device they happen to have a browser on, at least theoretically, with no need to even think about downloaded Apps.
Right now users can only access the Kindle Cloud Reader through either Apple's Safari browser or Google Chrome, which is what leads me to believe that this is an early release.  The fact that users will be able to pull this up on iPads but not on Android based Tablets would not make much sense otherwise.  If you attempt to access the service through an alternative browser, you will see nothing but a splash screen for it with a bit of the basic information and links to currently supported choices.  Since Android users still have access to a fully functional Kindle for Android app, however, it makes sense to prioritize elsewhere.  The ads for the service have definitely been making a big deal about the integrated shopping experience for iPad users, which is what distinguishes it from the iOS app.  Without something to make it at least equal to the existing Android Kindle app, not many people should feel the lack.  Support for Firefox, Internet Explorer, the Blackberry Playbook browser, and more have been promised in the months to come.  Given how excellent this early version is already, it's something to look forward to.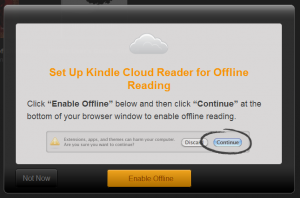 To get started, head to https://read.amazon.com in either of the supported browsers (if you do not have either Chrome or Safari, they are both freely available and linked at the end of this posting). When asked to log into the service, simply enter your usual Amazon.com store account.  Should you like to have your Kindle content available locally even when you are not connected to the internet, which I strongly recommend since it seems to speed things up a bit so far on my end, you will be given the option.  All of your Kindle Edition purchases will be immediately available in a familiar layout, either way.
The Library view is easy to use and will be quite familiar to anybody who has used the Kindle apps before.  You have a couple sorting and arrangement options in the upper-left corner and a size slider when you're in grid view.  Assuming you decided to enable offline reading via downloaded texts, you should see a Cloud/Downloaded toggle at the top of the screen.  By default, you will not have all of your eBooks downloaded.
Any book that you want to save a local copy of will have to be acquired manually.  Simply find it in the Cloud view, right-click on the cover art, and select "Download and Pin Book".  Each one takes perhaps ten to thirty seconds on an average internet connection.  According to the Amazon help page for this app, you can store 50MB locally on your iPad.  There are no posted restrictions for people using PC browsers.
When it comes to the actual reading experience, you have pretty much everything you can expect from an eReading application.  On the PC browsing is achieved using the mouse, arrow keys, PgUp/Down buttons, or space bar.  Nothing standard is left out, even if you can't necessarily map your own keys yet.  There are five font sizes to choose from, adjustable margins that do a good job of accommodating most screen sizes and orientations, and three color schemes.  While there isn't any finely tuned personalization included, the setup makes the best of the fact that you'll be reading on an LCD while keeping everything as simple as possible.

The only really major shortcoming right now, aside from the already mentioned lack of universal browser compatibility, is the limited integration of extra features.  For example, there does not seem to be any real way to perform a text search, which rules it out as an app substitute right now for a number of uses.  Also, while you can sync all of your annotations and highlighting, you can't make any new changes to any of it at this time.  All that really seems included right now is bookmarking and syncing of last pages read.  Given that the whole Whispernet setup makes up a core feature set of the Kindle experience it seems pretty likely that fixing these shortcomings will be happening in the very near future, but this is something to be aware of.
Overall, this is a great offering.  The idea is clearly to stick it to Apple for bringing things to the point of conflict with their App Store purchasing rules, and I would say that even if things never went beyond their present state it would still be enough to be attractive for the majority of iOS Kindle users.  There is literally nothing that Apple can reasonably do to block out Amazon's control of the platform when it goes through something like this, and there doesn't seem to be a lot that the browser based nature of the Kindle Cloud Reader would force the company to leave out.
As the application develops, it would not be surprising at all to learn that Amazon intended to replace their entire app presence with Cloud solutions.  The Amazon Cloud Drive and Cloud Player, both of which obviously precede the Kindle Cloud Reader, do a pretty good job of demonstrating the potential.  Perhaps after the success of those it was only a matter of time.  Stay tuned for any updates to the browser app as the feature set and browser compatibility are improved.  We'll do our best here to keep you abreast of any changes and improvements.
In case you have missed it, here's a post by Andrei with some speculations about where Kindle Cloud Reader came from and where it might be headed.