It has been a while since Kindle 2 was disassembled and now Rapid Repair did the same to Kindle DX.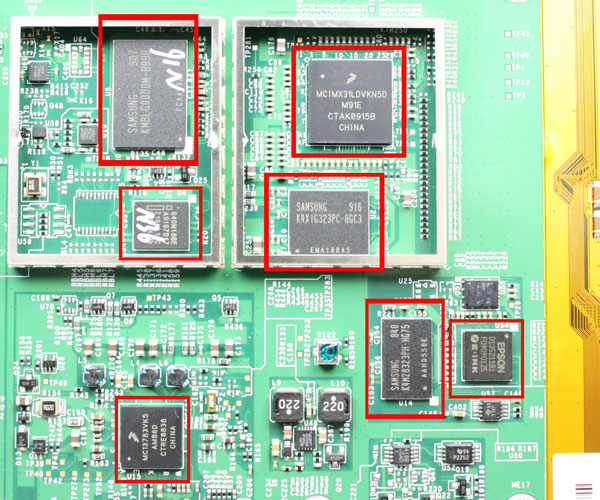 Here's the scoop of Kindle DX components:
The battery is 3.7V Li-Pol 1530mAh. Battery capacity is identical to one used in Kindle 2. MC13783VK5 is used as battery management chip also identical to Kindle 2.
CPU is MCIMX31LDVKN5D M91E CTAK0915B by Freescale Semiconductors which is the next revision of the one used in K2. Is uses ARM11 microprocessor core. It can run on core clock frequency of up to 533Mhz.
Samsung 916 K4X1G323PC-8GC3 EMA188A5 is a 128 Megabyte mobile DDR SDRAM chip. This is the same as in Kindle 2
Samsung 840 K4M28323PH-HG75 AAH055BE is a 16 Megabyte mobile SDR SDRAM chip. Based on the fact that it's located right next to Epson eInk controller chip (see below) I would dare to guess that it's used as "framebuffer" memory. I could be wrong though.
eInk controller is Epson D135211B1 F09090125.
Flash chip is Samsung 907 KMBLG0000M-B998. It is 5 Gigabyte MOVI NAND + NAND + MCU.
Except for the flash and slightly upgraded CPU all other components are identical to ones used in Kindle 2. That's why Amazon was able to release it so soon after K2 was released.