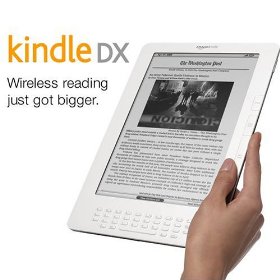 According to Amazon website Kindle DX will ship on the the 10th of June 10th, 2009. There were some speculations earlier about release date being 6th of July or 24th or June. However as it turns out we can start enjoying large screen reading much sooner.
I hope that my order it high enough in line to ship on first day Kindle DX is available so you can see a comprehensive hands-on review from me as soon as it arrives.
As for the Kindle DX Release Date contest, I realize that one week before official announcement rule would bar all entries but I wouldn't feel right about it. Therefore I'll choose a winner from people who submitted entries on or before 31st of April. I'll post results once I've contacted the winner. I don't think anyone would object to this last minute change in the rules.
There are more contests coming up and best way to stay on top of them is to subscribe to this blog.