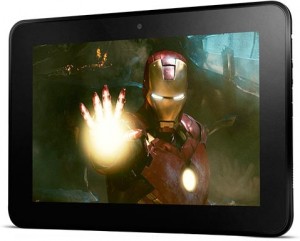 Amazon's Kindle Fire HD 8.9" tablet is now shipping out to many of those who got their preorders in early.  While new customers will have to wait until at least December 3rd for their new devices to be mailed, it's a good time to take a look at what Amazon has done here and what the chances are that they will be able to mark a success in the large tablet section of the market.
Mostly I'm looking at the actual experience of using the new tablet.  Now that it's possible to play with, we can get a good idea of how it's going to go over with customers throughout the holiday season.
Display
The visuals are nice.  We're working with a much higher resolution now and it shows.  The colors are basically the same as you find on the smaller model.  Not much more to say than that there is absolutely nothing to complain about here, even when it comes to watching HD video content.
Sound
Maybe it's just because of how impressive the last Kindle Fire I had in hand turned out to sound, but I was looking forward to hearing what this one could do. The quality is almost exactly the same.  There might be some small improvement over the 7" model when it comes to the effectiveness of the stereo speakers but if so it's minimal.  Still, both Kindle Fire HD models stand above every other tablet on the market today when it comes to sound quality.
General User Experience
The 8.9" model is a bit harder to use one-handed but it's still not bad in that respect.  In every other way I find it superior to the 7".  The weight is little enough that long use isn't a problem.  The larger screen makes for better browsing and app usage.  The size is about as large as it can get without becoming as unwieldy as an iPad.  Not bashing the iPad, this is just going to see a lot more regular use than mine by comparison because of the slight decrease in size. Learn how to open JPG file.
Overall
This would make a good selection for anybody wanting a slightly more powerful consumption tablet.  It's smaller than either the Nexus 10 or the iPad, but larger than the less expensive budget tablets that Amazon is known for dominating.  The price is right at $299, though I would recommend springing for the extra storage available at $369 if the option is available.
If you want a portable device to watch video on, this is likely to be the best thing on the market for a while.  The Kindle Fire HD 8.9" combines sound, video, and streaming quality to make a truly excellent experience. Learn how to open EML file.
If you're looking for a functional tablet for productivity, it's still ok?  The iPad (and now Microsoft's Surface) is the leader in terms of tablet productivity for a reason.  Make no mistake, Amazon isn't intruding there yet.  This should be viewed purely as a means to tap into their ecosystem and the media sources it can link you to.  What it tries to do, however, the new Kindle Fire does very well indeed.