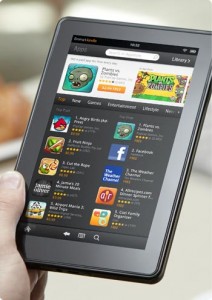 Over the past several weeks several people have informed me that the most up to date reviews they were able to find regarding the Kindle Fire were a bit outdated, to say the least.  Looking over the links I was provided, it definitely seems like there is still some misinformation floating around.  This is mostly a result of failure to update after the performance patch, which did a great job of addressing complaints and ensures that new users won't have nearly as many annoyances as they might have on launch day.  In the interest of clarifying, here's what I would say is worth knowing if trying to decide on a Kindle Fire purchase today:
Pros:
Highly portable (noticeably lighter than any hardcover book I own)
Durable (Check out Andrei's scratch/drop test)
Powerful for the $200 price
~8 Hour battery life (I average 7 hours with WiFi on and brightness at a comfortable level)
Amazing video quality through Amazon Instant Video
Seamless integration with Amazon Cloud Storage for Amazon Purchases
Large, well-moderated App Store
Access to Amazon's Customer Service
Easy WiFi Setup
Cons
Only 8GB onboard storage (6GB or so available, with just over 1GB reserved for Apps)
2 Finger Touch screen not perfect for extended typing (not a netbook replacement)
Back-lit screen not great for reading
Some Kindle eReader functionality missing (collections, real page numbers, X-Ray)
No Text to Speech (in Kindle Edition eBooks, though some apps may make up for this)
No access to Android Marketplace by default
Netflix video currently only allows SD streaming
Limited Codec selection
Common Kindle Fire Software Complaints (Including Those Addressed)
Choppy navigation
WiFi connectivity limited
Overly fast browsing/scrolling
Unresponsive page turning
No Parental Controls
No way to choose favoring of mobile sites
Unintuitive cloud integration for personal documents
Caroussel Logs Every Activity
Purchased Apps always present in Cloud view
Silk Browser doesn't live up to the hype
At this point, if you are interested in getting a Kindle Fire, I strongly recommend it.  This isn't exactly a surprise coming from me given earlier similar declarations even before the big patch that dealt with so many complaints, but it remains true. Read how to open NUMBERS file.
This is not an iPad killer.  It might have an effect on Apple, and will almost certainly spur Amazon to more direct competition, but they're devices intended for different purposes.  If you want to watch movies, play Android games, access a wide variety of streaming content, and just generally consume media of various sorts, the Kindle Fire is the way to go.  I certainly wouldn't replace my Kindle eReader with one, nor would it work as even a basic netbook substitute in the way that an iPad could once you get used to it, but what it does do is well done.
This is just a short overview, of course, and I would be happy to elaborate on any and all of these points should you be interested.  Let me know here or
by email
and I will either comment here or throw up an in-depth explanation as the situation demands.