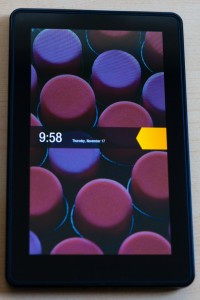 A couple of Kindle Fire devices have arrived at my doorstep yesterday evening along with Kindle Touch. Since Kindle Touch review is mostly done (though it is still being updated) it's about time I review Kindle Fire. With Kindle Fire being a multifaceted and multipurpose device it is the in-depth review is going to be quite long. I'll start by giving a high-level overview of the device and then dive deep into each aspect.
Kindle Fire at a glance
It is based on  Gingerbread version of Android heavily modified by Amazon software developers. You can still install 3rd party Android applications and even root the device altogether.
In terms of size footprint (7.5″ x 4.7″ x 0.45″) is almost exactly the same as Kindle Keyboard but thicker. It also weight twice as much. Kindle Fire is slightly smaller and of almost the same weight (14.6oz) as Nook Color 2. Neither device will cause your arm to go numb after prolonged reading like was the case for me with 1st generation iPad
Kindle Fire features 7″ backlit LCD touchscreen based on in-plane switching IPS technology. IPS (unlike TN) provides better and more uniform colors regardless of the angle at which screen is viewed. Screen runs at 1024 x 600 pixel resolution (169 DPI which is higher than 132 DPI in iPad 2).
Screen is protected by "Gorilla Glass" that makes it more scratch and break-resistant. Touchscreen supports multi-touch gestures like pinch which have become golden standard in mobile devices.
Kindle Fire gives you access to a vast library of content:

Over 1,000,000 of modern, in-copyright books, most of which are priced under $9.99. Some of these books can be loaded for free for unlimited time from "Kindle Owner's Lending Library" available though Amazon Prime subscription
Over 2,000,000 out-of-copyright books
More than 100,000 moview and TV shows. More than 10,000 of these are available for free to Amazon Prime subscribers (Kindle Fire comes with one month free Amazon Prime subscription)
Over 17,000,000 songs from Amazon MP3 store. All of these are DRM-free. So you are not limited to Kindle Fire when it comes to listening these. These songs will play on almost any device and can be burned to CD
Full color magazines that can be purchased as a subscription or one issue at a time
More than 20,000 Android apps available though Amazon. More apps can be side-loaded on Kindle Fire bypassing the Amazon store. This includes games like Angry Birds, Plants vs. Zombies, Fruit Ninja and many more

Fully functional Web browser with flash support and accelerated by Amazon Silk technology.
802.11b/g/n WiFi to wirelessly download media and browse the Web
Up to 8 hours of battery life on a single charge
Dual core 1Ghz Texas Instruments OMAP 4 CPU (exactly the same as Nook Color 2)
8 gigabytes of internal flash memory. Although Kindle Fire doesn't feature a memory card slot like all Kindle devices starting from Kindle 2, it can leverage Amazon Cloud storage.
Supports email (including Gmail) and working with personal documents and media in the following formats: AZW, TXT, PDF, MOBI, PRC, AA, AAX, DOC, DOCX, JPEG, GIF, PNG, BMP, non-DRM AAC, MP3, MIDI, OGG, WAV, MP4, VP8.
Learn how to open DOCX file.
Stereo speakers and 3.5mm headphone mini-jack for audio playback
USB connectivity for manually transferring content to and from personal computer. Though Kindle Fire doesn't require a PC and can work as a standalone device.
Price: $199.00 including one month trial of Amazon Prime membership that gives access to free eBooks and videos mentioned above and free 2-day shipping on select items on Amazon.com
Kindle Fire Ergonomics
In terms of exterior, Kindle Fire is a generic as device can get. It is a 7.5″ x 4.7″ x 0.45″ (190mm x 120mm x 11.4mm) paralelipipid with rounded corners. Front is Gorilla Glass and back is rubberized plastic. It weights 14.6oz (413 grams). Upper edge houses stereo speaker openings, and lower edge is home to 3.5mm mini-jack, micro-B USB/charging connector and power button which is the only physical button on the device. The device is comfortable to hold with either one or two hands either in landscape or portrait mode. There is nothing worth noting either good or bad about the device exterior. It is comfortable and it just works.
Similar to Nook Color, Kindle Fire lacks 4 standard Android buttons: home, menu, back and search. While Nook Color has "Home" and two sound volume control buttons, Kindle Fire does not. All these buttons are implemented in software and pop-up on the screen either by user request or as need arises. Personally I'd love to have at least volume control buttons in hardware. Having a hardware play/pause button would have been an even bigger boon. However "buttonless" seems to be the latest fashion, so you need to get distracted for a few moments and do some finger manipulation to pause the music you are listening to when someone walks up and starts a conversation.
Overall device is comfortable to use, however adding a few additional hardware buttons would have made it even more so.
Kindle Fire Screen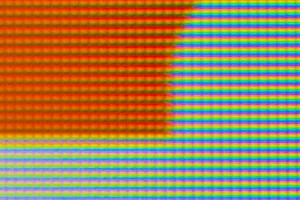 Visual quality of the IPS LCD touchscreen is very good for such an inexpensive device. Amazon doesn't fail to remind you of this fact each time you power on the Kindle Fire by showing you yet another beautiful wallpaper image.
IPS stands for "in-plane-switching". It is technology for manufacturing LCD screens that produces brighter and more vivid colors when compared to TN (twisted nematic) displays. Another advantage of IPS over TN displays is the fact that colors look the same regardless of the angle at which display is being observed. Try looking at cheap LCD display (ATM machine, cash register) from the side and you will understand what I'm talking about.
Although Kindle Fire display features higher resolution of 169 DPI than Apple iPad 2 (132 DPI) it is still nowhere near 326 DPI of Apple "retina" display featured in iPhone 4 and iPhone 4S. But lets not forget that there is no way tablet featuring such display and a video-chip to efficiently drive it could cost $199.00 as Kindle Fire does.
Touchscreen latency is noticeably higher when compared to that of an iPad. What this means is that a fraction of a second passes between the moment you move your finger and the moment things start moving on the screen. It wouldn't bother you unless you were specifically looking for it.
All-in-all, I'm happy with Kindle Fire display and touchscreen despite few shortcomings I've mentioned above. Considering $199 price point it is great "bang-for-the-buck"
Now let's take a closer look at actual day-to-day usage scenarios and see how good or bad Kindle Fire is at getting done things normally expected of tablets.
Kindle Fire Web Browsing (technical stuff)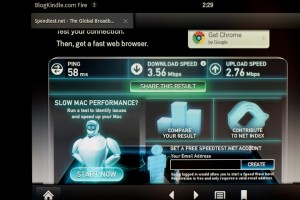 Browsing the web is by far the most common activity people perform on mobile devices. Ideally one would want to have the same experience when consuming and generating web-content as on the desktop or laptop. Small form factor, limited battery, processing power, lack of physical keyboard and mouse dictate some limitations and open some new opportunities. Lets see how well will Kindle Fire fare when browsing the Web.
Any Internet browsing is going to be only as good as the Internet connection that is available. Kindle Fire uses 802.11b/g/n WiFi to connect to the Internet. In theory 802.11n networks can support speeds up to 600Mbps in ideal conditions. However most practical implementations have a much more modest limit of 150Mbs. This is still more than enough to stream blu-ray quality HD video in real-time. However conditions are rarely ideal. Also having a fast WiFi chip and good wireless router (even with excellent ISP down the line) may not be enough. In order to achieve fast network speeds device must have the processing power to move and consume the data.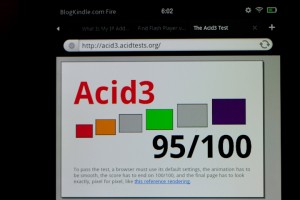 Fortunately being a modern Android device, Kindle Fire supports Adobe Flash so I was able to use speedtest.net to measure ping, upload and download speed. It measured ping at 58ms, download at 3.56 megabit per second and upload at 2.76. When doing the same measurement from my desktop that is connected to the router via 1 gigabit wire results were: ping 14ms, 29.15Mbps download and 5.06Mbps upload (which is exactly what I pay Comcast for). So running data though the air rather than wire definitely slows things down. To find out how much is to blame on my router and neighbors RC toys and how much on Kindle Fire I ran a couple more tests from my Samsung Windows 8 tablet and iPad 2. Both produced upload and download speeds of around 5Mbps and ping or around 15ms. It is clear that while my wireless network has it's limitations, Kindle Fire didn't utilize it fully. It mostly suffered in the ping department. What this means in reality is that all things being equal you will see content on Kindle Fire 0.04 seconds later than you would on another device. In reality Kindle Fire provides speed and latency that is well enough to browse the web and even stream HD video at 720p.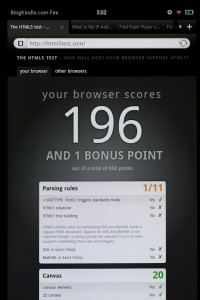 While downloading content fast is nice it would be useless unless one could display the content properly. In modern web there are several standards that matter in terms of interactive content: HTML, HTML5 and Flash.
When originally released, Kindle Fire ran Linux version of Adobe Flash 10.3.186.50. It rendered most flash content without any problems and it rendered it fast. Not bad for a mobile device.
In terms of HTML standard compliance Kindle Fire web-browser scored 95/100 on Acid3 test. Not bad, but desktop versions of Internet Explorer 10 and latest version of Google Chrome can do 100/100. Out of sheer curiosity I ran Acid3 test on Kindle Touch and Kindle Keyboard. Both scored perfect 100/100.
Another important browser benchmark is Javascript performance. One of the standard ways to measure it is WebKit SunSpider test. It takes Kindle Fire 2,635 milliseconds to run one iteration. This is not bad for a mobile device at all. To put this into perspective, it takes 1st generation iPad 2,932 milliseconds to run the same test, while iPad 2 scores 1816ms. Windows PC based on Intel Core i5 CPU on the other hand runs it in 343 milliseconds. It took some time to finish by 1st generation NOOKcolor also managed to get though the test, scoring 13,624 milliseconds. While it is not fair to compare last year's device to a modern one, it's the best I can do at the moment.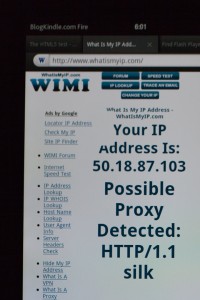 Next lets take a look at HTML5 compliance. To test it I navigated Kindle Fire browser to html5test.com. it scored 196/450.  Not bad, but not too good either. Nook Color scored 181/450. IE10 scored 300/450 and latest version of Google Chrome scored 343/450. If you are interested in the gory details of what is supported and what is not – see this separate post.
While not perfect, in practice these results aren't discouraging. HTML5 is still an emerging standard and most of websites are built on older technologies. Webmasters want their sites to be compatible with as many browsers as possible and cut down on shiny features in favor of compatibility.
All of the browsing except secure HTTPS websites goes though Amazon Silk proxy server. It serves several purposes. First it makes web-surfing more secure in public spots since all communications between Kindle Fire and Amazon Silk servers are encrypted. If you are using unsecure open hotspot like one in Starbucks, nobody would be able to eavesdrop on your web-browsing. HTTPS communications are not only encrypted but also guarantee that the server your browser connects to is indeed the one you see in the address bar and there are no middle-men, so Amazon Silk is disabled. This can be easily verified by visiting http://whatismyip.com/ and https://whatismyip.com/. Former would report "Possible Proxy Detected: HTTP/1.1 silk"
What is it that Amazon Silk does to speed up browsing exactly? In essence it does several things:
Acts as a smart proxy and central point of contact for the browser. So rather than having to connect to a dozen of separate servers to collect all images, scripts, videos etc found on the page, Kindle Fire browser only has to connect to Silk server which is faster.
Silk server may already have all or some of the resources needed to show the page so it can start sending them right away along with the page itself
Statistically Silk knows which web-pages people visit, it Silk would pre-load your next most likely destination into the browser (top headline on a news website)
Some of the page elements may be processed on Amazon EC2 (Elastic Computing) servers which are more powerful than Kindle Fire (see Javascript performance analysis above). How exactly this works is a bit of a mystery for me right now. I hoped to get a peek into it by sniffing network traffic between Kindle Fire and Amazon Silk, but the fact that this traffic is encrypted made it impossible
At the end of the day it is supposed to make your browsing faster, so that you could see web-pages you are interested in sooner. In reality it doesn't help as much as one could hope for several reasons:
Bad WiFi connection is still a bad WiFi connection, no matter what. Things will be slow.
Websites that require you to log in (like Facebook) will not benefit from this technology at all because Amazon can't cache anything because it is encrypted and specific to your account.
At the end of the day, Silk or no Silk, Kindle Fire still has a good functional web-browser that handles day-to-day tasks good enough. Here's what I tried to do
Kindle Fire Browser (trying to do things)
Open blogkindle.com :) – success – works flawlessly. Website renders as good as it does on a desktop.
Try to type up a short post for blogkindle.com – partial failure – post editor works only partially in Kindle Fire Browser. It is possible to type raw HTML, but visual WordPress editor doesn't work. In case you are wondering – it doesn't work on iPad either.
Log into facebook.com, read other people's posts, post a status update – success.
Log into twitter.com, read tweets and post one of my own – success.
Browse CNN.com – success
Open Gmail.com – success – both mobile and desktop versions work without problems on Kindle Fire. Of course there is also email app for that.
Play a Flash game on addictinggames.com – more fail than success – the game runs, but it is too choppy and slow to enjoy.
Browse amazon.com – success. It would be very surprising if it were otherwise.
Watch a youtube.com video – success
Conclusion: Kindle Fire has more than adequate web-browser. Compared to browsing on iPad I saw no difference (including benefit from Amazon Silk).
You can cutomizer your browser, by tapping on the menu button and selecting "Settings". Some interesting things that you can do there are:
Disable Amazon Silk by checking "Accelerate page loading" off
Enable or disable pop-up blocker
Configure whether browser would remember passwords and form data
Clear cookies for individual websites – "Website Settings" at the very bottom of settings menu.
And if you are afraid you screwed something up you can "Reset to default"
Reading periodicals (Newsstand)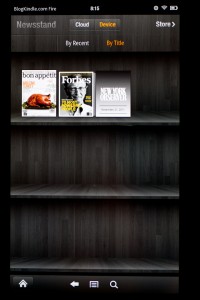 Kindle Fire gives you instant access to dozens of newspapers and magazines. You can either subscribe and have then automatically delivered to your device by the virtue of wireless Internet or just buy specific issues you are interested in. Many magazines feature 90-day free trial subscriptions. All purchases are stored in Amazon Cloud so you can always re-download newspapers and magazines that you purchased or subscribed to before to any Kindle Fire device that is registered to your account. The experience is pretty much identical Kindle eBooks and surely is convenient. There are two ways newspapers and magazines can work on Kindle Fire.
First one is very similar to eInk Kindle experience in terms of text layout, ability to customize text by selecting from one of the 8 font sizes, 3 line spacing settings, 3 margin sizes, color modes (white-on-black, black-on-white, gray-on-yellowish sepia) and these typefaces: Georgia, Caecilia, Trebuchet, Verdana, Arial, Times New Roman, Courier and Lucida. Of course, photos are in color and page turns animations are nice in smooth, but in essence reading a newspaper on Kindle Fire is the same structured experience it is on eInk Kindle – you see a list of sections and articles, you chose one and read it start to end.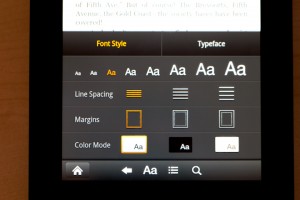 Alternatively a magazine can be available was a set of high-resolution images that you can flip through much like a regular paper copy. You can pinch to zoom in and zoom out and flip though thumbnails. There is no way to customize text appearance in this case. While full page images are nice to look at, it is easier and comfortable to read articles the other way. Also, despite the fact that Kindle Fire is powered by dual-core 1Ghz CPU, zooming and flipping these large color images can be choppy.
Some of the subscriptions that you already have on eInk Kindle might be available for Kindle Fire (ex: Forbes Magazine), others (like Wall Street Journal) might not be. Alternatively is it possible that a magazine is only available on Kindle Fire and not on eInk devices (ex: "O, The Oprah Magazine"). I can understand why some content may be limited to color screen devices for quality purposes. But limiting something like WSJ to only eInk can be explained only by legal/copyright reasons.
Reading Books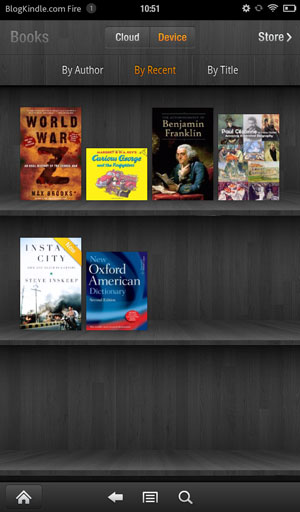 Some were expecting Kindle Fire book reading experience to be simply Kindle App for Android pre-loaded on the device. Others expected text-to-speech being available. Neither turned out to be true. Kindle Fire reading app provides everything that one might expect from good eReader app. The app is an integral part of the home screen, available as "Books" tab. Within the tab usual "Cloud", "Device" and "Store sections are present, making it easy to access and organize your eBooks.
Text customization (same as for newspapers and magazines): line spacings, margins, night/day/sepia modes and 8 typefaces to choose from
You can bookmark (invoke menu by tapping the center of the screen) and click on bookmark image
Highlights and annotations are supported and they will synchronize across all your Kindle devices. You can't however share those via Facebook and Twitter as with eInk devices.
You can search within the text of currently open book or within book names but not withing the text of all books downloaded to the device (as with Kindle Keyboard, Kindle Touch or Kindle Non-Touch). Unlike eInk devices, Kindle Fire doesn't create an index that allows to search for a word instantly. Instead the reader app will go through the book each time you do a search. The process is relatively fast.  It takes Kindle Fire 44 seconds to go through entire "Lord of the Rings" trilogy when looking for a word.
New Oxford English dictionary is available for doing quick look ups of words within a book. Wikipedia and Google can also be used. Unfortunately there is no way to replace the default dictionary with another one (perhaps one that can be used for translation)
You can maximize embedded images to full screen and zoom further in by using pinch zoom.
Text-to-speech or any other form of accessibility is not supported
Most recently read books are added to the home screen carousel for fast and easy access.
By default Kindle App also handles PDF files. Whlie the files are readable, there isn't a whole lot that you can do with them – not even search. Just flip pages and pinch zoom. Fortunately, 3rd party apps can be installed from the App Store (including Adobe Reader). If you root your device and enable Google Andoid Marketplace, your selection of PDF readers would be even greater.
This gets us to an interesting topic also related to reading books. Once you enable Google Android Market, you can install Android apps from other eBook stores and make broad eBook selection already available to you from Amazon even broader. More out of curiosity's sake rather than for any practical benefit I went though the exercise of rooting my Kindle Fire, enabling Android market and installing following eReader apps:
Barnes & Noble NOOK
Google Reader
Kobo Reader
Sony Reader
Listening to Music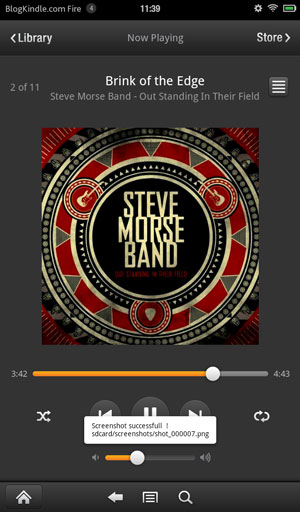 Kindle Fire comes equipped with stereo speakers, 3.5mm headphones jack and built in access to Amazon MP3 store. I've been using this store long before Amazon Cloud Drive/Player came about because Amazon sells their music DRM-free. Once you buy the track you can do whatever you want – play it on any number or iPods (or any other MP3 players), computers, smartphones, burn it to CDs etc. There are no restrictions at all. With introduction of Cloud Drive/Player, all your MP3 purchases are automatically copied to your Cloud Drive and will be stored there forever for free. It is easy for Amazon to do it since they already have the files on their servers. All they need to do is remember that you purchased the tracks and give you access to them when you need it.
Kindle Fire integration of Amazon Cloud makes it even more convenient. You can either stream your music right from the Cloud without bothering to download or you can download the music to device local storage in case you are going to listen it somewhere where WiFi networks are not available.
New to Amazon MP3 store but already have large collection of DRM-free MP3 files from elsewhere? No problem – you can upload your collection to the Cloud Drive and it will be as accessible as tracks that you've purchased from Amazon. Depending on the size of your collection, you may need to pay a small amount to Amazon yearly for storing your files.
You can browse your collection by artist, album or song and search within it. You can further organize it by creating playlists. Playlists are stored in the Cloud as well, so they will automatically synchronize across all your devices. You can access them thought the browser of your computer as well.
Built-in MP3 player is great, but it is not the only way you can listen to music on your Kindle Fire. There are also apps like Pandora, TuneIn Radio, Last.fm. All these are available though Amazon AppStore for Android – there is no need to root the device to get these applications.
The only shortcoming of Kindle Fire when it comes to listening to music is in the hardware department – Kindle Fire doesn't have a Bluetooth radio. Making it impossible to use Bluetooth wireless headsets. These headsets normally come equipped with Play/Pause, Prev/Next track and volume control buttons offsetting the inconvenience of these buttons being absent on the device itself.
Listening to audiobooks
You can install audible app and download audiobooks straight to your Kindle Fire device without the need to connect the device to computer. Works perfectly. My only wish here is for Audible (actually owned by Amazon) to implement a system similar to Whispersync that would synchronize listening position in audiobook across all my devices.
Watching Videos
Another common use of tablet computers is watching movies and TV shows. Amazon has been in this market for quite some time with their Amazon Unbox offering. While video offerings from Amazon aren't as generous as their MP3 "no-DRM, play anytime, anywhere as much as you want" they are still pretty good. There are several ways that you can get videos:
If you have Amazon Prime (and if you just purchased Kindle Fire, you do for at least a month from the day of your purchase), you can access 10,000+ video titles for free anytime you want from your Kindle Fire
You can rent movies and TV shows for a fixed price and watch them within 48 hours. So far I've seen most videos prices at $2.99 per rental.
Some movies are available for "buy to own" type purchase. This means that once you pay, you can stream the title on any device (or through the browser). Purchased movies can also be downloaded to the Kindle Fire device to be watched even when the device is offline.
You can copy your own video files to Kindle Fire and play then on the device
For videos streamed from Amazon, Whispersync keeps track of last watched location and synchronizes it across devices – much like last read page in Kindle eBooks. This way you can resume watching video at the same spot where you left off.
Videos that you manually copy via USB cable will not show up in the video tab of the home screen which is a pity. There are several ways that they can be accessed however. You can browse them in the Gallery app that comes with the device and lets you browse your photos as well. Or you can install a file browser like "ES File Explorer" and use it to browse and open your videos.
Once again, hardware is the area where Kindle Fire falls short of being perfect. Had it been equipped with HDMI output, it would have been possible to view all this video content on a larger screen. While nice to have this is not a huge deal since the same content can be streamed via PC or a host of other devices that can connect to Amazon (ex: my Samsung TV can do it via free downloadable app)
One thing worth noting is that Amazon Video streaming and download will not work while device is rooted. You can however root the device, do what you need to do, unroot it and get video streaming back. While device is rooted, video related buttons are disabled and there is a link underneath them that displays a message: ""Your device is no longer configured correctly to play Amazon videos. For more information see Help & Feedback under Settings." followed by instructions that eventually lead you to customer support phone call. In my case CS rep didn't know what was going on and forwarded my ticket to Tier-2 support. Meanwhile I've figured out the problem myself by unrooting the device.
Once again, there are other ways to get videos on your Kindle Fire besides Amazon. These ways come in the form of apps that you can get form the Amazon app store like Hulu Plus and Netflix.
Using Documents
Kindle comes with basic QuickOffice pre-installed. Basic version will let you only view documents. While full version will allow editing them as well. Additional apps expand documents handling functionality of Kindle Fire even further. Enabling Google Android store would take it even further.
Realistically though, tablets are meant fro content consumption – not creation or manipulation. This stems from the hardware limitations dictated portability and long battery life requirement. Even something as simple as preparing a blog post by half typing it out of your head and half copy-pasting data from other sources is nearly impossible to accomplish even on iPad, even with keyboard dock attached. Never mind 7″ tablet with no keyboard.
Document tab on the start screen is dedicated only to documents in one of the formats that are natively supported by Kindle Readers (PRC, MOBI, etc) or converted to these formats via Amazon online conversion tool. Conversion is accomplished by attaching a document to email sent to your special @kindle.com email address that is conveniently displayed on the "Docs"  tab of Kindle Fire or on the "Manage Your Kindle" page on Amazon.com
Kindle Fire Apps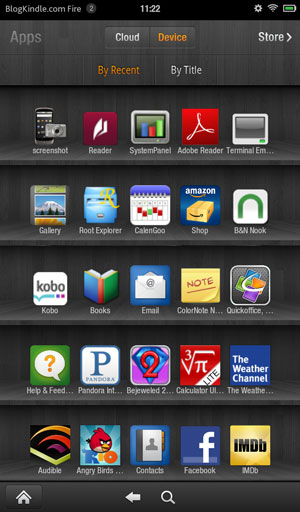 Kindle Fire runs Gingerbread version of Android operating system that was heavily modified by Amazon. Although Amazon has their own Android app store with proprietary signing and certification standards, the code in the apps that run on Kindle Fire is still code written for Android. Many app developers have taken their existing Android apps and just certified then with Amazon to make them available on Kindle Fire. There are currently more than 20,000 apps available in the Amazon app store. This is just a tiny portion of apps that are available in general Google Android store but a lot of useful apps are already there and the number keeps increasing.
You can side-load apk packages from sources other than Amazon app store by enabling "Allow Installation of Applications from Unknown Sources" in the "Device" section of settings. You can download apk files from Kindle Fire browser and run then from there – no need to connect to the computer at all.
Obtaining apk files may be hard or impossible (in case of paid apps). You can still get access to all of the applications available in Google Android store by temporarily rooting your device and installing the Marketplace app.
When it is done you will be able to see updates that are already available in the general store by didn't yet make it though Amazon certification process. If the app was originally installed from Amazon store, updates from Google store will fail to install because of different signing certificate. You should also keep in mind that buying app in one store doesn't give you access to the same app in another. You can however install Amazon store on any android device since it is just an app freely available though Google App Marketplace. As I mentioned before it is possible to install Google marketplace on Kindle Fire as well, without losing any benefits.
Instructions for rooting and enabling Google Marketplace are available on several blogs but not all of them work. I'll make instructions that I verified to work available here on this blog a bit later.
Another marketplace that Kindle Fire comes preloaded with is Amazon app for purchasing tangible good from Amazon – good for Amazon.
Email app is preloaded on Kindle Fire. Calendar is not, but it can be downloaded from the app store.
Kindle Fire Software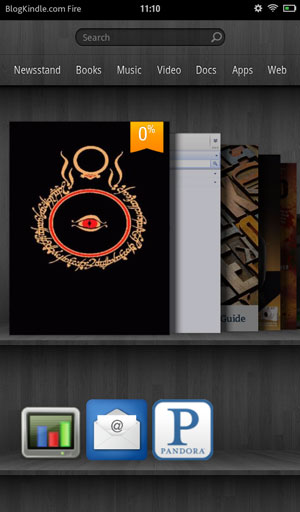 Kindle Fire Home screen is simple, yet efficient. It will probably fail to satisfy people who are used to something like GO Launcher EX heavily customized with additional widgets. But for most practical purposes it gets the job done.
Each tab except "Docs" and "Web" has 3 uniform sections: "Cloud", "Device" and "Store", making it easy to manage content on the device regardless of it's type. Each section supports searching of content items by name. This is similar to how books used to be arranged on Kindle eInk devices prior to introduction of collections – you can tons of items piled up in archived items or home screen, but you can find the one you need quickly by searching for the right word. Often you don't need to search at all because the content you need is at the top of the screen because you accessed it recently.
With Kindle Fire most recently viewed items regardless of type (book, video, music or app) are shown in the carousel on the home screen. You can also pin favorite items to the favorites shelf below the carousel so that these items are readily available regardless of when was the last time you used them.
Carousel animations are nice and smooth. Standard Android buttons (Home, Back, Menu and Search) appear at the bottom portion of the screen when they are needed. Notifications can be viewed by swiping the finger down from the upper-left part of the screen. Swiping from upper-right brings down tool bar for quickly controlling things like WiFi, sound volume, screen brightness and sync. It also acts as access point to device settings.
All-in-all, in quite happy with Kindle Fire software. Amazon did a good job cooking raw Android so that it can be safely digested by general public.
Kindle Fire Hardware
Although overall I consider Kindle Fire a device with great value for a modest price and it would be unrealistic to expect too much from device that sells for $199 I'm still going to list things that I found lacking in the hardware so that prospective buyers would be aware of them:
Lack of hardware buttons besides power button. It is a problem since standard android buttons that apps rely on just being there are not always visible. It may take extra gestures to bring them out. When the app hangs it maybe impossible to bring them out altogether until the OS realizes that the app is not responding. During this time, volume control is not available either.
Having something as simple as a mic (that isn't that expensive really) would enable running Skype on Kindle Fire and would have unlocked a very useful scenario, making the device even more competitive. Going one step further and adding a webcam would have been even greater boon.
Having Bluetooth connectivity would have made the device much more competitive as audio player. Kindle Fire could sit in your purse or backpack, while you would listen to music via wireless headset and use buttons on the headset to control the playback. Being able to use the headset would offset the disadvantage of missing the built in mic.
Having HDMI connectivity would have been nice as well.
Other than that Kindle Fire is solid in terms of hardware, sporting a dual core CPU and very nice IPS display.
Conclusion
Kindle Fire is a very competitive device that comes connected to tons for different content from Amazon (and other companies via apps):
Books,
Music,
Video,
Apps,
The Web
It has been built around the idea of making this content easily available to customers. The same idea that propelled Kindle eBook reader to success and made it a market leader. For $199.00, Kindle Fire is definitely the biggest bang for the buck in terms of things that it enables you to do. Surely there is always room for improvement, but isn't it always the case?
Kindle Fire has enjoyed a positive reception from both critics and users. Reviews on the Web are mostly positive. Less than 48 hours from being made available it has already accumulated 761 review on Amazon and counting. Out of these, 395 are 5-star reviews.
Read how to open EPS file and how to open CSV file on Kindle.
PS: I took several picture an screenshots during this review – will add them a bit later.