Since the Kindle was introduced in 2007, it has eased the burden on visually impaired readers considerably by incorporating six font size adjustment options.   The font size adjustment on the  Kindle is a great feature because it eliminates the need to buy heavy, cumbersome large print books.  Large print books are often very expensive and are not readily available.  However, more can be done to make reading more pleasurable for this group of readers.
In addition to large print books, visually impaired readers use another device called a CCTV.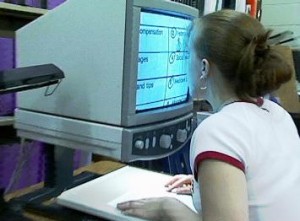 These devices tend to run in the $4000 price range, which is a pretty hefty price tag. The reader places the book on a platform under a computer screen and adjusts the font size and color schemes to fit their reading needs.  If the Kindle can include more font sizes into its options available, just imagine how much easier, less expensive and more portable reading would be for these readers!
The dream takes a closer step towards reality this summer.  Amazon plans to make more font size options available during the summer of 2010, according to this WebProNews article .   The amount of font size options will increase from six to eleven. The seventh font option, a "super font", will be double the size of the largest font size currently available on the Kindle.  At last, visually impaired users will be able read with comfort and not have to worry about eye strain and muscle soreness from lugging a large book around.  The expense of purchasing large equipment such as the CCTV will be drastically cut by purchasing a $259 Kindle.