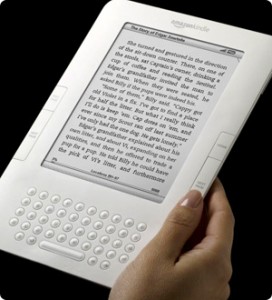 While the general functionality of the Kindle hasn't changed much from version to version, at least as far as the act of reading goes, as time goes on the newer firmware for the latest generation of Kindles has introduced a few things that owners of the earlier models might be justifiably unhappy about not having access to.  Even if you do read enough eBooks for the Kindle to pay for itself in a year or two, nobody really likes the idea of being forced to buy a whole new one from time to time just to be able to use the newest options.  Working with this concept, an inventive individual by the name of Yifan Lu has managed to come up with a way for owners of the Kindle 2 and Kindle DX to update their devices to the latest version of Amazon's firmware.
It isn't a quick process necessarily, but it seems to be a well outlined process.  You need a jailbroken Kindle 3 handy(instructions on how to do that are provided as well) in addition to the device you are upgrading in order to extract the working 3.1 setup, but other than that there's nothing special required in terms of equipment.  Even that is simply to avoid possible penalties from Amazon for distributing the copyrighted code behind the Kindle, but you can't blame somebody for wanting to avoid that.
There are a number of benefits to updating to Kindle 3.1:
Real Page Numbers
Improved Web Browser
Improved PDF Support
and More!
The disadvantage, of course, is that doing this will be complicated for your average user and might carry some small amount of risk to it.  Also, at present there are two major bugs that arise from this update.  The audio player becomes effectively unusable thanks to degraded sound quality, and Kindle Active Content will not work.  Both of these may be fixed at some time in the future, but I haven't heard with any certainty that they are being actively worked on.  Surprisingly, the upgrade is said to involve no significant decline in performance.
Since the option to run the newer features on older Kindle models is clearly there, it seems a bit manipulative of Amazon to deny them to early customers.  I'm aware that they need to find ways to make money and that it serves to push the newer products that much more effectively, but this isn't the way to do it in my opinion.  Thanks to this hack, however, if you happen to need a second or third household eReader, you have the option of a fully functional refurbished Kindle 2 with only a little bit of work.  There have been some great deals on them lately if you keep your eyes open.  It's a good way to get the most for your money even when you dislike the idea of the ad-supported Kindle with Special Offers.  The Kindle 2 isn't quite as nice to use as the Kindle 3, in my opinion, but that doesn't make it bad by any means.
If you are interested in this hack, check it out at: http://yifan.lu/tag/kindle/
We take no credit for the work involved in making this great new tool.