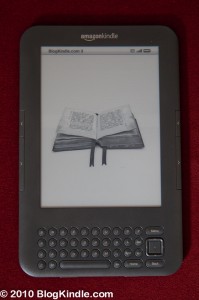 When I was in high school about 10 years ago, the only solution to avoid lugging around super heavy books was to make extra trips to your locker, or use a rolling book bag.  Rolling book bags should have been more adequately named "rolling hazards."
Clearwater High School students just got their own personalized Kindles Thursday that are set to replace their textbooks.  It is amazing how quickly the Kindle can solve that problem, huh?  Each student got a Kindle that was programmed with their own class schedule.  They can take notes, look up words in the device's built in dictionary and use the text to speech feature.
As far as cost goes, the Kindles have saved the school money because it has cut the cost of books.  A Kindle is a natural fit for high school students because they are already so technology savvy with texting, Facebook and other technologies.  The Kindle makes reading and education so much more engaging and exciting.
My question is, how well will these students take care of their Kindles?  Regular textbooks are cheaper to replace and often suffer a great deal of wear and tear.  Having a Kindle might just teach the students how to be more responsible because electronics can't take the amount of wear and tear that regular books can.
I'm surprised that the Kindle DX has not had as much success on college and university campuses so far.  I guess it is because are just not that many textbooks available yet.  There are ways to digitize textbooks, but they can require destroying the book.  It would also not be very cost effective in the end to digitize the book on your own.
It does look promising though that textbooks will soon be available digitally.  For science majors especially, who have to lug around really big, expensive books, that would be a lifesaver.