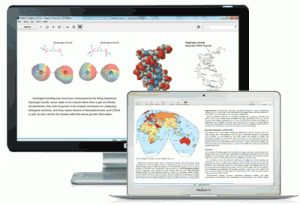 While there is a huge demand for affordable college textbooks, both purchased and rented, the Kindle eTextbook rental option has yet to become terribly popular.  There's a very good reason for this.  Textbooks traditionally make extensive use of graphics, charts, colors, and other such methods of enhancing the text.  The Kindle's monochrome E INK screen has not been entirely up to the task of replacing those features.  While it is great for pleasure reading, things haven't quite clicked in other areas just yet.  That may all be changing with the release of the Kindle Fire, though.
Not only will the Kindle Fire's display have color, which is an obvious benefit, it has a larger screen which means more leeway when it comes to properly positioning everything that needs to be shown at any given time.  This is aided, of course, by the new Kindle Format 8 release, which will allow publishers to better control the positions of things on the page.  That's not a great thing when overused, but will prove a vital component of properly adapting digital texts.  Nobody wants this to become another iteration of the increasingly obsolete PDF format, but there are definitely situations where some rigidity in positioning important elements is to be desired.  Sadly, until now most electronic textbook renters have been forced to rely on PDF copies.  It is definitely a good time to be marketing viable alternatives.
The Kindle Textbook Rental service already allows users a chance at significant savings.  Renters can save as much as 80 percent off of the purchase price, depending on the book.  This rental can be for a period of anywhere from a month to a year, and can even be turned into a purchase should you desire in the end.  Despite this being only a temporary arrangement, users are able to bookmark, highlight, and annotate as much as desired and not only will these notes persist through to the end of the rental, they will be available in the same text should it ever be rented gain or purchased in the future.
Generally, at the moment, it is advisable to be sure that you can regularly access your rental from a computer rather than a Kindle.  It is obviously possible to use the Kindle, but it is somewhat difficult to get the most out of it, as I mentioned.  With the release of the new device, then, we can expect to be seeing a bigger push at this end of the Kindle Store's content.  Possibly as early as late December given the upcoming semester, but definitely by Spring 2012. The Kindle Fire is extremely likely to breathe new life into a program full of potential and low on actual versatility thus far.