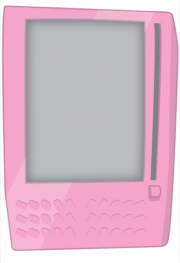 As crazy as it sounds, according to an intriguing CrunchGear article today, a trusted "insider" has revealed that Amazon will be releasing two new Kindle models, the first of which could be hitting shelves as early as October.
From CrunchGear;
An insider let slip that two new Amazon Kindle models will hit stores this holiday season, with the first coming as early as October.

The first is an updated version with the same sized screen, a smaller form factor, and an improved interface. The source told us that Amazon has "skipped three or four generations," comparing the old Kindle to the 1st gen iPod and the new version to something like the sexy iPod Mini.
The rendering to the right is NOT what the new Kindle will look like – we hope – it's CrunchGears own rendering. However, according to the article, Amazon will be making the new Kindles available in a variety of colours to make the device more appealing to a younger audience, so buying a pink Kindle is not out of the question – yet.
Reportedly, the first model will be a smaller incarnation of the existing Kindle with the same sized screen and an "improved interface". The source goes on to say that the newer smaller Kindle will have "skipped three or four generations" it will be interesting to see exactly what this means, a new eInk display perhaps or a new operating system? The second new version will be shaped like a 8.5 – 11 inch sheet of paper and will be noticeably larger than the current model, it will hit shelves early next year.
There is no word on the pricing structure, or indeed if it means that the existing Kindle will be reduced in price – we hope so.
We would advise that you take this news with a pinch of salt because Jeff Bezos said this at "D: All Things Digital Conference" back in May;
"There will be a second version, a third version, a tenth version. … but a second version is not that near."
Was Jeff deceiving us? I don't think he was, however I think the most likely reality is that Amazon is refreshing the product line – just like the Apple did with the iPod. First we had the iPod, then along came the iPod Nano, iPod Shuffle and iPod Touch, most likely that is what is going on. Amazon is offering different flavours of the Kindle depending on your reading habits, a "Kindle Nano" if you occasional reader, a "Classic Kindle" if your a major bookworm etc…
This rumour has thrown a gigantic spanner in the works if you were thinking of purchasing a Kindle any time soon.
Source: CrunchGear