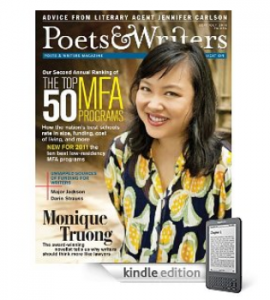 According to their website, Poets & Writers has grown from its humble beginnings in a New York apartment to its current status as the largest nonprofit organization for writers of poetry, nonfiction and creative fiction.  Galen Williams found funding and started the organization in 1970.
If you are a serious writer, this organization a great resource for tips, literary grants, publishing information, networking opportunities and writing seminars.  Poets & Writers Magazine was formed in 1987. The bi-monthly publication is available for 99 cents on the Kindle and Kindle DX.
In 1996, pw.org was launched, providing an online presence for the magazine along with message board forums and exclusive online content.  In 2007, Poets & Writers Magazine introduced the Jackson Poetry Prize.  This awards  $50,000 to an early to mid career poet.  That is a pretty nice chunk of change.
I found a neat quote on the magazine's website from E. L. Doctorow who described P&W as:
"a saintly little service organization for writers across the country. It tells them where the jobs are, the reading gigs, the grants, the awards competitions, and it brings them news of each other. Not its least valuable service is the one that comes of all the others – the suggestion of community implicit in this lowliest and most dire of professions."
Overall, the reviews for the Kindle edition are good.  One suggestion Amazon (NASDAQ: AMZN) should take note of, is to provide a scan or search feature within the Kindle edition of the magazine.  The reviewer mentioned that it was much quicker to find certain sections in the magazine version.  The reviews overall reflected what the magazine website's descriptions said about the content in terms of its great insight on many areas of the writing industry.
I took a look at the magazine, and I like that the writers write from a such a deeply personal point of view.  The stories have a lot more meaning that way.  You will also find information on current events such as the Chilean Mine ordeal and reviews on top MFA programs.
With so much information on the web to sort through, this magazine is a great resource to help sort the quality writing from the junk.