I meant to publish this post yesterday but got carried away by other business. First of all – kudos to Amazon for timely shipment and large supply. I don't think that anyone who ordered Kindle 2
was left without one. Sony should take the time to learn from this good example. A friend of mine was sitting on the fence until the last day and finally placed his order at 3PM pacific time on the 23rd and he received his Kindle about the same time I did – around 3PM pacific time on the 24th. I checked the Amazon website and looks as of today (February 25th there is no backlog) – you can still order and get it on the next day (or later if you want to save on shipping).
Here it is…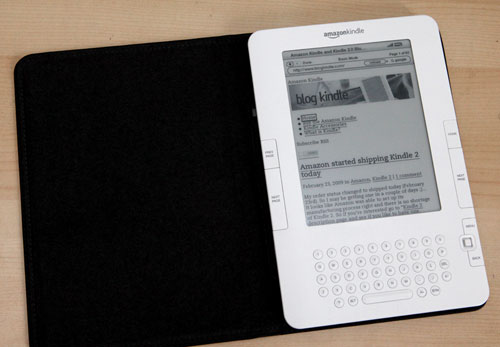 First impressions are really good. Amazon Kindle was a good thing to begin with and they didn't do anything wrong in the second version. In fact I wouldn't call it v2 (nor does Amazon say so anywhere on the device itself) – it's a nice evolutionary development of well engineered device:
Photos and pictures look better with 16 shades of gray rather than 4
5-way button is a bit more convenient than scroller (but that's just my opinion)
The geek in me misses the SD card slot as it (the geek) would like to eventually stuff entire library of congress in the device but the rational part of me realizes that 1.4GB is quite enough given that device is almost always online.
These are just my first impressions. I'll keep using Kindle 2
and will post on my impressions again in 2 weeks, than in 1 month, then in 3. Of course I'll post about other related topics much more often… Stay tuned.