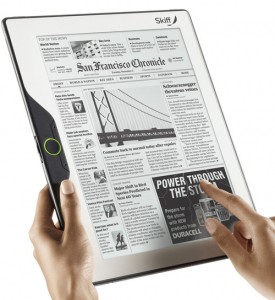 Skiff is the result of the efforts put in by Hearst and it was previewed at this year's CES. Skiff is an eBook reader like no other. It uses LG's Micro Foil display technology that allows the device to be the largest and yet the thinnest eBook reader in existence. It is so thin that there's a press photo of ir being bent and it look just like a piece of plastic being bent. But make no mistake about its features because it is pretty well packed and some people are saying that is looks better than even the Kindle DX.
It comes with both WiFi and 3G, the latter of which is brought to you by Sprint. The device is optimized for large format print publications like newspaper and magazines. It will have an undisclosed number of tie ups with various content providers, including the San Francisco Chronicle, as seen in the image on the right. The reader is supposed to enable the distribution and viewing of print media content in rich visual styles including rich layouts and detailed letter faces along with dynamic updates to the device itself. They are probably referring to the availability of 3G on the device and pushing content over the air. It remains to be seen whether the 3G connection is baked into the price of the product like the International Kindle.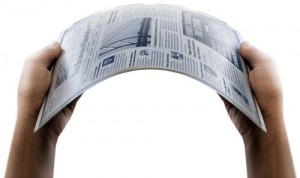 The Skiff eBook reader will integrate with the Skiff e-reader service, which is the equivalent of the Whispernet on the Kindle. But instead of mainly books, think mostly periodicals that you have to subscribe to. The people behind the Skiff are hopeful that this device will help the industry turn around and make some money from subscriptions which are flagging. And the Skiff's gorgeous and sleek looks are going to come in real handy in those efforts.