In case you have been missing that booky smell when you read eBooks on your Amazon Kindle – there is a solution for you – "An Aerosol E-Book Enhancer" now available in 5 flavors:
Classic Musty Scent. When was the last time an e-book made you sneeze? Probably never. It's a scientifically proven fact that e-books lack the necessary "character" to trigger a strong physical reaction. Our Classic Musty Scent solves that problem. Your e-book reader may be new and made of plastic, but now your e-books can smell like vintage classics. Classic Musty Scent is like having the collected works of Shakespeare in a can. Warning: Do not use if you are allergic to dust, dirt, or mold. May trigger an extreme allergic reaction for a small number of users. Discontinue use if sneezing persists for more than three weeks.
Crunchy Bacon Scent. Who doesn't love the smell of bacon? Crunchy Bacon Scent is the first aroma in our new Lifestyle SeriesTM. Designed especially for the health conscious book lover, Crunchy Bacon is a low calorie, low cholesterol alternative for your breakfast reading enjoyment. Warning: Not recommended for vegan readers. Crunchy Bacon Scent is not Kosher. Not for use with Statin drugs.
Eau, You Have Cats. Specially engineered from the concentrated aromas of 20,000 second-hand books. This special scent is guaranteed to please animal lovers and avid book collectors alike. It's just like borrowing a book from grandma's house. So realistic you'll think "Mr. Puss" is back again! Warning: Use only in well-ventilated areas. Male cats may react adversely to this realistic scent. Do not use near upholstered fabric.
New Book Smell. Do you love the fresh scent of paper, ink, and glue? We sure do! That's why we created New Book Smell in a can. Regardless of whether you download your e-books from the Kindle Store or Project Gutenberg, New Book Smell will bring back those long lost memories of your favorite local bookstore. With New Book Smell your friends will never know that you're reading an e-book. Warning: Glue sniffing may lead to dizziness and other side effects. Some customers may find this to be unpleasant. Please consult your physician before using this product if you are using other medications.
Scent of Sensibility. Women will love this specially engineered designer book aroma. The scent of violets, horses, and potpourri. It's like living in a Jane Austen novel! What are you waiting for? Isn't it time you curled by a warm fire with a cup of tea, your favorite e-book, and a can of Scent of Sensibility? Warning: Scent of Sensibility is designed for use with women's fiction. This product should not be used with non-fiction, James Bond novels, or the works of Hunter S. Thompson.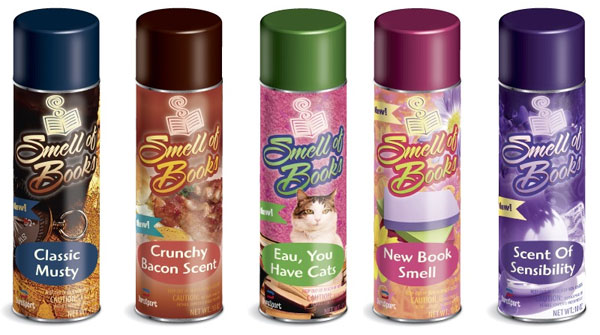 Once again I regret that it's nowhere near 1st of April. But hey, who said people have to be serious all year-round?