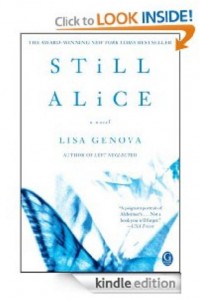 Still Alice by Lisa Genova is a fictional account of a 50 year old Harvard psychology professor with early onset Alzheimer's.  It is available in both Kindle and paperback editions.  This book has won numerous awards and had a long run on the New York Times Bestseller List.
I discovered this book while searching through Goodreads recommendations.  Goodreads has introduced me to a lot of different authors and genres I would never have heard of otherwise.
It is simple, yet poignant.  The book is written from the perspective of the Alzheimer's patient as opposed to the more common caretaker viewpoint.  So, the reader gets a first hand glimpse into the daily tasks and emotions from the patient herself.
Most people think of Alzheimer's as affecting only the elderly.  In a majority of cases those people are beyond retirement age.  Before Alzheimer's struck, Alice held a jam packed schedule full of lectures, research, and teaching.  The aggressive disease took all of that away from her.  It not only takes a toll on her life, but on her family and friends as well.
The writing itself is really direct, with no frills.  Sometimes there is a bit of disorganization in the flow of the plot, but in a sense, it represents Alice's train of thoughts.
Still Alice has glowing reviews.  Many of the reviewers suggest that everyone affected by Alzheimer's in some way should read it.  I also saw multiple reviews saying how accurate Genova's depiction of the disease is. The fictional account has a loose connection to the author because she is a Harvard educated neuroscientist herself.
"Wow! This book is so realistic and, for me, a real tear-jerking read. I teach high school and I have always told my students that if a book can draw you in, make you live vicariously through a character, and somehow help you with life experiences, then it's a good book. This book did that for me and so much more."
Genova has another bestselling novel: Left Neglected out, and will release Love Anthony on September 25th.