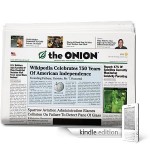 The Onion is a weekly newspaper offered on the Kindle and Kindle DX for $2.49.  The current editor of The Onion is Joe Randazzo, and their website is updated daily.  The Kindle edition is great for portability, and is delivered wirelessly every Thursday. The Onion is also released with its affiliate, The AV Club, a publication that explores the best and worst of books and entertainment.
According to Amazon's little spiel about the beginnings of the newspaper, The Onion was "founded in 1756, when Friedrich Siegfried Zweibel, an immigrant tuber-farmer from Prussia, shrewdly bartered a sack of yams for a second-hand printing press and named his fledgling newspaper The Mercantile Onion after the only words of English that he knew. Since then, The Onion has expanded into an omnipotent news empire complete with a 24-hour broadcast news division (The Onion News Network) and wildly successful website, TheOnion.com."
Well, some of that is accurate. There is a wildly popular website called TheOnion.com and a news division called The Onion News Network.  The Onion was founded by two University of Wisconsin – Madison students, Tim Keck and Christopher Johnson in 1988.  The name, The Onion, came from Chris Johnson's uncle who saw Keck and Johnson eating an onion sandwich on several occasions.  It was literally an onion on two pieces of bread.  That sounds pretty disgusting, huh?
Some regular columns featured in The Onion include: "STATshot", a spoof on USAToday's Snapshots, InfoGraphic, a set of bullet points and an image that provides a humorous "map description" of a person or object.  This week's InfoGraphic is the "Ozzy Genome." Others include: "Point, Counterpoint," "The ONION in History," which comprises of front page newspapers from earlier eras taken from the book Our Dumb Century and "American Voices."
I regularly follow The Onion Blog's daily updates, which does not have all of the articles as the newspaper.  A few articles featured on the website recently that appear both in the blog and in the newspaper are: "Wasting Tax Dollars on Something Awesome," "Ritalin Gummies Unveiled" and "George Steinbrenner Dead after Firing Underperforming Heart."  These are just a few tidbits of hilarious misinformation The Onion dishes out.
The reviews are very positive overall.  The Onion is such a great source of comic relief in the midst of all of the economic and political turmoil in the world.