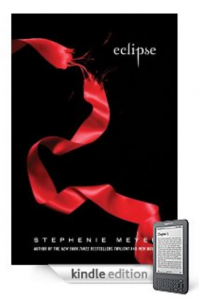 The Edward-Bella-Jacob triangle is in full force in the third installment of Stephenie Meyer's Twilight Saga: Eclipse. Bella and Edward are applying for college and consider marriage. Bella's interest in Jacob, the werewolf goes to a new level when she discovers she might be in love with him as well.
A major battle erupts in Seattle that leads to a great deal of fighting and bloodshed, and the army is made up of a bunch of newborn vampires. What an image. The battle is fueled by Victoria's jealousy over Edward and Bella's relationship. In efforts to avoid spoiling the plot for those of you who haven't read the book, I will leave it at that. So, grab a copy of Eclipse for your Kindle and Kindle DX and tell us what you think.
One interesting conclusion from the reviews of Eclipse are how varied the reactions. Eclipse got reviews ranging from "major cheesy" and "disturbing" to "a great love story."
"I was very hesitant of reading this series since i am not much into the vampire books but wow!! I was wrong on this one. I loved it and I coulnd't put the book down. I have 2 kids and i was able to ready this series in a very short time and that is really good for me. I am usually a slow ready but this author really captivated you to want to read more and want more. I got lost in the this world of theirs and really wanted more. I wish she would continue to write more about it. The Characters are fun and it brought back memories of being a teenager and the whole love thing. WOW!! It's a must read!!"
This review reminds me of my thoughts on Harry Potter.  I usually don't read fantasy, but somehow those books really sucked me in after I finally sat down to read them.  It is probably because despite the supernatural element of Twilight and Harry Potter, both series contain issues that we deal with in real life.
"I had a great time with this book, mostly because it really twisted everything around in a way I never thought it would go. Edward became so overprotective with the kidnapping and everything, that really stuck with me and made him the villain of this book. I did not see that coming. And the relationship between Bella and Jacob became a great strong-point of the story as well. I loved seeing her stand up for herself."
A review particularly catered to the Kindle version:
"Having just finished reading Eclipse on my kindle, and thoroughly enjoying it, I did not encounter any typos or formatting issues, save one minor point; there are no spaces between scene changes within chapters. The lack of spaces that indicate an end of scene did cause me some confusion when reading. I would occassionally come across a paragraph that did not flow as it was not in context with the previous paragraphs, I would then realise that a scene break had just occurred but had not been acknowledged in the spacing. In all other areas I was happy with the formatting of my kindle version of Eclipse."