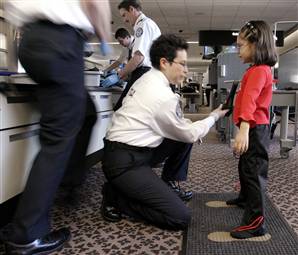 I came across a worrying story today from Reuters news today which said;
U.S. federal agents have been given new powers to seize travelers' laptops and other electronic devices at the border and hold them for unspecified periods the Washington Post reported on Friday.

Under recently disclosed Department of Homeland Security policies, such seizures may be carried out without suspicion of wrongdoing, the newspaper said, quoting policies issued on July 16 by two DHS agencies.
I have been aware of agents searching through laptops and copying the data, and in some cases even seizing them for prolonged times, which is one reason why I don't take my laptop with me on flights. However, seizing any electronic device without suspicion of wrongdoing is very worrying.
It gets worse;
The policies cover hard drives, flash drives, cell phones, iPods, pagers, beepers, and video and audio tapes — as well as books, pamphlets and other written materials, the report said.
Basically any electronic device can be seized, including out beloved Kindle arbitrarily and indefinitely.
Books are not expect either, which seems odd. The last time I went through US border security I was reading "The Post-American World" by Fareed Zakaria, a fabulous book by the way, considering that most people will think your an American-hating traitor for reading this book, it could have been seized along with my other electronic devices, which included my cellphone, iPod and Nintendo DS. Thankfully it was in my carry-on bag, the border agent didn't see it and I passed through without a problem, which was a good thing since I was only halfway through the book!
So just a word of warning to Kindle owners, either keep your Kindle hidden, or hope you don't run into a paranoid TSA agent at the airport.
Source: Reuters