With the emphasis on portable electronics always tending toward smaller and/or thinner it isn't surprising that the Kindle DX was never quite as popular as its smaller counterparts.  The extent of its failure is a little strange, though.  The 9.7" version of Amazon's Kindle eReader now seems to have been quietly pulled from the virtual shelves and left without a successor.  Why did it fail to catch on and is there even a market for a device like this?
As has been demonstrated in both tablets and eReaders, bigger doesn't always mean better.  There have been many eReaders attempted with larger screens and the variety of Android tablets is quite a bit more impressive.  The iPad is still going to be the bestselling tablet in the world for years to come, however, and it is quite a bit larger than many options.  One would think that screen size would be a valuable enough asset in the reading experience to make something similar possible for the Kindle DX.
There are plenty of reasons why that comparison is lacking.  Mostly it comes down to the fact that Apple put out a well-designed product and Amazon screwed up a bit.  What did they need to do better to keep the DX a viable option for customers?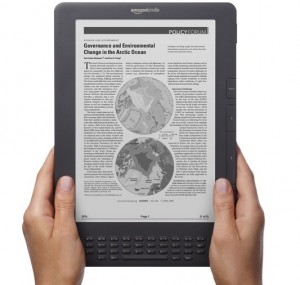 Price
When it was released, the Kindle DX cost just about 30% more than the Kindle 2.  That made it $489.  While I remember spending $300+ on an eReader and being satisfied with each one, whether it was the Sony PRS-500, the Nook, or the Kindle 2, that wasn't a sustainable sales strategy.  The Kindle is now under $70 per unit.  The Kindle DX at its lowest never got below $299 new.
Function
The fact that the Kindle DX only had navigation buttons on one side was a major shortcoming.  It hampered one-handed reading and landscape-orientation reading in general.  The keyboard, while nice to have, was also less usable than it needed to be.  The larger screen would have benefitted more from a touchscreen than any current Kindle does by far.
Durability
E Ink screens aren't known for being the most durable things in the world.  The Kindle DX, however, used the only one that I have ever had break on its first fall.  Twice.  I understand that a combination of the larger size and higher device weight make it more likely to have problems, but this is a big issue in light of the tendency for people to read one-handed.
Software
The Kindle DX never really saw much attention in terms of software updates.  It needed to.  Many of the issues that users reported, especially with regard to PDF viewing, could have been addressed.  Amazon gave the impression of having given up on the device within months of its release.
All told, it's safe to say that this doesn't really prove anything about the niche.  Yes, the Kindle DX is gone.  That could be because customers just don't like large eReaders, sure.  It could also be because customers aren't interested in incredibly expensive eReaders with design flaws and a lack of software updates. Learn how to open EML file.
Don't misunderstand, I love the Kindle DX.  Until giving mine away to a friend, it was used on a regular basis.  It just happened to give the impression of being a product that still needed work.  A larger version of the Kindle Paperwhite priced at $179 would fly off shelves, in my opinion.  As much as I wish that would happen it seems to be time to give up on the idea.  The Kindle DX is no longer relevant.