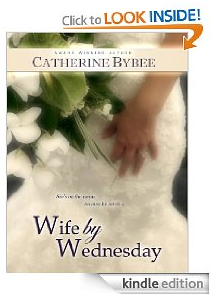 Wife by Wednesday is not your average romance novel.  The added twist is that it put a contemporary spin on what is usually a historical idea.  It is currently in the top 10 books on the Kindle Bestseller List, and is pretty cheap at $.99.
The general plot stars Blake, a member of the royal family who must have a wife by Wednesday, or he loses his inheritance.  Blake seeks out Sam Elliot's matchmaking firm, Alliance, for help.  Surprised to find out that Sam Elliot is actually Samantha Elliot, he offers her a ton of money to marry her for a year.
As they say,  usually the best romances come along when you aren't looking.  For Samantha, this is certainly true.  What starts out simply as a business contract, morphs into much much more.
Wife by Wednesday makes for an entertaining read, and keeps you interested with the biting dialogue.  It is short, and engaging without too much intensity.
There seems to be a trend going on with contemporary adaptations of historical novels like Pride and Prejudice and others. It would be interesting to hear what the well known historical authors would have to say about today's society.
The timing of Wife by Wednesday is also fitting considering the excitement surrounding the recent royal wedding. Learn how to open AAE file.
The reviews overall are excellent, with very few under 4 stars.  Catherine Bybee is the bestselling author of a number of romance novels that are worth checking out.
"While somewhat predictable, the story was entirely focused on its main characters and there really weren't any extra (read: unnecessary) storylines. It was a fun, fast read with plenty of "love" scenes. I will definitely be seeing what else Catherine Bybee has to offer! Her style was detailed, not rushed, and I particularly liked that I didn't have to waste chapters to find out what each character was doing."